Atiku Says, Forced Removal Of Elected Leaders Is Unconstitutional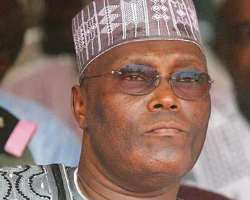 FORMER VICE PRESIDENT ATIKU ABUBAKAR
… Urges Boko Haram To Embrace Permanent Peace
SAN FRANCISCO, July 09, (THEWILL) - Former Vice President Atiku Abubakar has condemned any attempt to remove elected leaders by unconstitutional means whatever might be their perceived offences.

Reacting to the outbreak of chaos in the Rivers State House of House Assembly on Monday, following the attempt by five lawmakers to effect leadership change, the former Vice President warned against the consequences of going outside the constitution to oust elected leaders.
Atiku Abubakar said in a statement by his media office in Abuja yesterday that the constitution of Nigeria was not written on sand so that anybody could breach it as he or she pleases to achieve private motives rather than the public interest.
According to Atiku, any wanton disregard for the sanctity of the constitution or due process in the removal of elected public office holders would seriously harm our democratic order.
He explained that the constitution is superior to any individual and that any efforts to apply barbaric tactics to remove leaders should not be condoned by anybody.

The former Vice President regretted that the failure to punish similar crude attempts in the past such as the Ngige saga in Anambra State in July of 2004 had encouraged impunity among those seeking to impeach elected leaders by means other than that enshrined in the constitution.
He regretted a situation where some misguided elements would seek to wage a war on our democracy for which many had paid the supreme price.
"It is sad that those who are seeking to subvert our nascent democracy are some of those who never fought for what that many laid down their lives for. These persons are advised to take heed to the festering crisis in Egypt following a forced change of leadership in that country," Atiku said.
"We can either dismiss what happened today in Port Harcourt as one more incident in the long line of impunity and constitution abuse, or we speak very strongly against it, sending thereby an unambiguous message to the powers-that-be that sweat and blood of fathers, mothers and children, which were used to nurture the tree of our democracy must not go in vain," the statement concluded.
Atiku has also called on Boko Haram members to disarm totally and permanently in the spirit of the Ramadan fasting period, which begins among Muslim faithful in the country today.
In a good will message to mark the beginning of the 30-day long Ramadan fasting by Muslims, the former Vice President appealed to the Boko Haram insurgents to permanently abandon any form of violence against innocent people.
According to him, cold-blooded murder of innocent people is against the teachings of Islam and, therefore, advised the Boko Haram insurgents to embrace peace, using the Ramadan season as the beginning of the end of their violence against defenseless victims.
He said Islam is the religion of peace and that violence cannot be a permanent alternative to conflicts resolution in society.
He, however, urged the Federal Government and the military to adhere strictly to international best practices and conventions on engagement even as it wages the war against the Boko Haram insurgents in the affected areas.
The Turaki Adamawa said enough blood of innocent people have been shed and urged the Boko Haram leaders to search their conscience and save the country any further deliberate destruction of lives and property.
Atiku Abubakar advised Boko Haram to embrace dialogue and disarmament to save the nation this needless violence against innocent people.
In the words of Atiku Abubakar, "deliberate violence against innocent people cannot be justified under whatever circumstances and it benefits nobody. The Boko Haram insurgents should take advantage of this Ramadan period to end all forms of violence once and for all, and save us from this endless trauma."