HOW GOV OHAKIM FLOGGED ME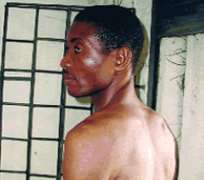 http://www.nigerianbestforum.com/blog/wp-content/uploads/2010/02/kenna-27.gif Ikenna
Recently, a social crusader, Mr. Ikenna Samuelson Iwuoha, stunned the country when he declared that Imo State Governor, Chief Ikedi Ohakim, personally flogged him. Although the governor's aides have denied this, the man insists that it happened, right in the governor's office, in Owerri, Imo State capital. Saturday Sun was able to track Iwuoha down and he gave a detailed account of what transpired on that fateful day.
When did you start your social crusading/activitism?
In fact, social crusade work has been my nature, even from my enlarged Iwuoha family. We are known for that. We are known as a family of crusader for justice.  Now, in the societal environment, I became a political activist and social crusader in 2007. Everybody has his own skills.  I would say despite the fact that I am a business man and a politician, my nature, as a crusader, does not allow me to keep quiet when things within my environment are continually going wrong.
Why did you focus your attention on Governor Ohakim?
When the man was sworn in, as the governor of Imo State, there was political crisis in the state. He was wholeheartedly   welcome by over 90 percent of Imo citizens, not that the majority of the people of the state wanted him but the Imo people needed peace. But, unfortunately, the man shot himself in the leg by embarking on anti-people policies and programmes.  As a crusader, I asked myself why this man, who has been accepted by the people, should embark on these kind of programmes, like the 'Clean and Green.' 'The Clean and Green' initiative, on the surface, is a good programme, but the implementation is nothing to write home about.  He started   destroying the property of ordinary citizens of the state without following due process. He used an agency called ENTRACO. The time ENTRACO unleashed terror on the poor masses of the state it was an illegal agency.
ENTRACO was approved as a bill, by the Imo State House   of Assembly, in April 2008, while the governor   signed it into law in August 2008. However, ENTRACO was used to destroy the property of the citizens of Imo State between August 2007 and April 2008. It, therefore, means   that between August 2007 and April 2008, the agency he used to attack/unleash terror on the poor masses was an illegal one. That made me to step out to challenge the malfunctioning, devaluation of leadership and the unreasonableness of the governor.   I don't have a gun or a cutlass to challenge these atrocities.  I picked my pen and started writing. Fortunately, I am a businessman and some of my businesses are also affected. That is not even the issue.  It is not even the tonic that gingered me. I saw people crying.  I reckoned 'Clean and Green' is a good programme, but the governor should have given the people enough time to relocate and if possible compensate them.  They didn't do that. Instead of applying human face in his so-called operation clean Imo State, he just descended on the poor masses, leaving the rich men in our society.
For instance, the Aladinma  Royal Suite,  a hotel located at  Aladinma Housing  Estate, was built  on a sewage. You don't build  such a big structure on a water pipe channel. In fact, it is an  illegal  structure.  The owner of the hotel is my personal friend.  I raised  the issue  of  Garden  Park  Business   Centre,  along Okigwe roundabout.  Instead of  moving  at the pace  he used to attack the poor masses, what Ohakim  did was to give the  owner of Garden Park Business  Centre, 18 months to relocate to a new place, plus N5 million compensation. Then,  if Ohakim could  pay compensation  to the owner of the business  centre for N5million  and a new site to relocate to, therefore, common  sense  tells  us that the poor  masses  should  have been given  the same  time frame  to adjust  and face realities. That was when I said no to these anti-masses  programmes and I stepped out to challenge  the Ohakim government.
Why did you then send a petition to EFCC against  Governor  Ikedi Ohakim?
When my battles  with Ohakim continued, I took  it as a  profession because  by my nature,  as a social  crusader, I will not keep  quiet  when things  are continually going  wrong. So, in the process of challenging these anomalies  in Ohakim's  government,  I discovered  that misappropriation of funds was actually  going on in the government.
I didn't  just go to the EFCC. I wrote  my first petition to the Imo State House of  Assembly on June 2, 2008, where I appealed to  the Speaker  of the House, Chief  Goodluck  Nana Opiah,  to set up  a probe panel to look into the allegations I raised in my  petition. I also pleaded that when they set up the panel, they  should  invite me to give  further  details. My letter  (petition) was swept  under the carpet. On the 16th June 2008, I wrote an article  that was published in the local  tabloid, 'Nigeria Stride Newspapers,' entitled 'Why Imo House  is assisting  Ikedi Ohakim to destroy Imo State.'  I listed  some of these  atrocities. Ohakim got angry. He sent the SSS and police to harass  me. Eventually,  we landed in court.  I have  been in court with Governor Ikedi Ohakim since 1st July 2008 till today.  I didn't  give up  because, by  my nature  as a social  crusader, I  will not keep quiet once I have seen evil  taking place.
Then,  my being  arraigned in court in 2008 by Ohakim and the then state Commissioner  of Police,  Mr. Innocent Ilozuoke,  gingered me into action.  It was the time  people  started noticing  that a new  radical had emerged in Imo State, called  Ikenna Samuelson Iwuoha. I started my network initiative, called  SLAP (Safeguard Leadership,  Accountability  and Productivity) and I meant business.  I have been fighting  with my resources, despite  the fact that my businesses were destroyed.
I continued  writing  articles, exposing  so many things. Then in January 2009, I wrote a petition  to the office of Inspector General of Police then, Mr.  Mike  Okiro. The police authorities wrote  an acknowledgement letter and invited  me to Abuja to clarify  some issues  with them. I told  them that I was in court with Ohakim's government.  We agreed on a particular date and  when that time came they told  me not to bother, that even if  they investigate  Governor  Ohakim and discover a wrong doing, there was nothing they could do because he has immunity.
They directed me to the EFCC.  I wrote a petition to EFCC and continued bombing Ikedi Ohakim and his  government,  exposing what I thought was wrong. When some people, including Mr. Maximus Ubah accused the Imo government of the same thing I complained about, I suspect that this may have gingered the sate House  of Assembly to set up a probe panel to investigate  the allegations. I saw it as an opportunity to buttress my points before  the probe panel.  I wrote  a letter to the chairman  of  the probe  panel, Hon.  Samuel  Anyanwu on the 14th  September 2009  pleading  with them to invite  me before  the panel to say  all I know  about  Governor Ikedi Ohakim's  misrule.  But, surprisingly , two days after I sent my petition to the chairman  of the probe panel, that is 16th September 2009, they adjourned  sitting  sine die. I kept  my cool.
On 21st September 2009,  I sent a reminder letter to the probe panel, but they didn't know I copied all media houses.  Hon.  Samuel Anyanwu, chairman of the probe panel, called me on phone and said: 'Ikenna, take it easy with Ohakim.'  Even an  honourable  member representing  Isiala Mbano State Constituency, in the  House  of Assembly, also pleaded  with me to soft-pedal. He invited me in to a hotel in New  Owerri for discussions. But I told  them off.  On 20th September 2009, I wrote another petition to the EFCC asking that all members of the panel should be arrested because they were not serious with the probe. Why should a concerned citizen write a letter asking them to invite him to reveal all he knows and they are busy playing 'Ochinwata politics.' That letter was also published in some newspapers. But, what the panel did was to run round Imo State with armed mobile policemen to buy off those newspapers that carried the news on my letter.
Recently, you were arrested by men of the SSS from Imo Command. What happened?
I was not arrested by men of SSS. I was abducted by armed men. On the 19th January 2010, Imo State Commissioner of Police, Mr. Aloy Okorie, called me on phone and said he wanted us to have a meeting. I asked the commissioner if there was any problem. He said that he wanted us to have a brief chat. That was Tuesday, 19th January 2010. We agreed to meet on Friday, 22nd January 2010 by 9am in his office. The next day, I called the commissioner of police around 5:30pm to reconfirm our appointment. He confirmed it. I was dumbfounded the next morning, at 6.30am, when I heard a knock on my front door and when I came out, I was face to face with five heavily armed men. Four of them wore mufti, while the other one wore police bulletproof vest. They said that they were looking for Ikenna Samuelson Iwuoha and I told them I was the one. They told me that the commissioner of police asked them to bring me. I told them that I had an appointment with the CP the next day (Friday) by 9am and asked them whether they were sure of what they were saying. They pulled their guns at me. They ordered me to open the iron protector leading to my door immediately.
I called the commissioner of police at about 6.36am, in the presence of the armed men, to reconfirm my appointment with him and he quickly responded. He didn't know why I was calling him. He asked me whether there was any problem. I told him that before me were five armed men saying that he asked them to bring me. He was shocked and pulsed. He said that I could follow them. From that moment, I sensed that he was not the one that sent them to my house.
The armed men remained outside while I dressed up and made some telephone calls to my people to alert them of the development. I told the commissioner of police that should anything happen to me, I will hold him responsible. I told him that my people are scattered over the nation and will also hold him responsible. He pleaded with me to handover my telephone to the armed men. In fact, God gave me that courage of not releasing my telephone to the armed men, as requested by the commissioner of police. I told my five-year-old son that I would follow the armed men. I opened the iron protector and followed them and the force they came with was relaxed.
Outside my compound I saw a jeep, and I knew it to be among the governor's convoy. I told them that I knew the jeep. We drove straight to Government House and the driver diverted to the multi-purpose hall and parked. The leader of the team that led the so-called abduction or arrested me made some calls to somebody telling him that they were now with me. I stayed with them from 7am to 9am and within this interval they asked about my phone on three occasions. By 9am, a call came  to them that the governor was now in his office and shortly, the Chief Security Officer (CSO) of the governor walked in through a smaller gate (entrance) and came to where we had parked. The driver of the jeep came down and the CSO took over the wheel from him. He turned back and said, 'my friend, who are you?' I told him that my name is Ikenna Samuelson Iwuoha. He nodded and drove off.
When we got to governor's lodge, he parked and I came down. They marched me  straight to the governor's office. When they opened the door, I saw Ikedi Ohakim. God in heaven will bear me witness.  May it never be well with me if I am falsely accusing the governor of Imo State. May I never see anything good in my life if I am falsely accusing the governor of Imo State. May ill-luck and bad luck follow me all the rest of my life if I am falsely accusing Ikedi Ohakim. In fact, let it not be well with me.
I saw Ikedi Ohakim and he shouted, 'lock the door, lock the door.' The door was locked, leaving me with the CSO and the governor in the governor's office. The CSO pulled his gun on me and the governor shouted, 'remove your clothes.' I played along. I started removing my clothes.  I removed two buttons. Ohakim himself forcefully removed my clothes. Then a young man of about 34 years of age wearing an ash suit walked in and assisted Ohakim to completely remove my clothes in the office of the governor. I am telling you the gospel truth and only the truth. God in heaven is my witness Almighty God will never deny me. This is just the truth and I am saying the truth. I became completely naked before Ikedi Ohakim, right inside the office of the governor. Ohakim gave me a blow on my mouth and a head butt.
Honestly, I was shocked, but I asked God to take control. He went to his office table and took a 'koboko' (whip) and started flogging me. After a while, he ordered me to lie down on the floor and I did, still naked. This man flogged everything out of me.  I was in pains. I am just telling you the gospel truth. As he was flogging me, his brother,  the Chief of Staff, Sir Emma Ohakim, walked in and said, 'Chineke, His Excellency, His Excellency.' Almighty God will bear witness to this. Emma is his brother and he may come out tomorrow and deny it, but, may God judge Emma and his conscience should he come out  to deny this particular sentence.
Ohakim looked up and said,  'Emma, this is Ikenna Samuelson.' Then Emma just hissed  and left the office. The governor continued to flog me. The CSO still pointed a gun at me, while the flogging was going on. I grabbed Ikedi Ohakim's leg and told him that what he was doing to me in the office of the governor was wrong. I told him he had desecrating the office of the governor. I told him that my wife is from his place, Mbano and conversely he is my children's 'Nnaoche.' Honestly, Ohakim temporarily stopped flogging me. I was still lying on the floor. He shifted his chair and sat. He was marching his left leg on the floor and then he started shouting, 'Samuelson, you have killed me; you have finished me in this country.' He said that he would deal with me. He said he knew those sponsoring me, but,  wanted me to mention their names with my own mouth.
My brother, the flogging started again. I saw hell in the hands of Ohakim. I pleaded with him to leave me alone. Ohakim said that he would leave me alone on one condition. He brought  out a copy of one of my publications in the 'National  Daily Newspaper.' It was captioned, 'How Ohakim loots Imo State.' Almighty God will bear me witness to this. Ohakim now said,  'look at how you have disgraced the governor of Imo State.' He was holding it with his right hand.
He said also: 'They sent you to monitor my activities in Imo State. Why must you join hands with my enemies?' He brought another document, entitled:  'How Ohakim loots Imo State, part 2,' and said, 'Samuelson, who wrote this petition against me to the Inspector General of Police? You must read the contents of this petition.' Honestly, the flogging started again.
The article he was talking about was a terrible one because I exposed him. The office of the Inspector General of Police wrote an acknowledgement letter to me signed by CP Austin Oboedo and dated 14th January 2009. I asked him again to leave me alone, but he said I must cooperate with him. He said he wanted to call a press conference, where I would denounced all these allegations against me, saying that once I did he would do anything I wanted. He asked me about my laptop and e-mail address and at that point I knew I had actually got him.
We started staring at each other. I was brought to his office at 9.10am and we were there till 10.20am, roughly an hour and 10 minutes. When we stared at each other, tears flowed from his eyes and at that point I was moved. I nearly got up from the floor to hold him to say it was okay, but my instinct told me not to. The CSO was still pointing a gun at me and he called the attention of the governor, telling him that the commissioner of police was coming with somebody. Then Ikedi Ohakim asked me to get up and put on my boxers. I managed to get up and put on my boxers. I sat on the floor.
As soon as the commissioner of police walked in, Ohakim got up and said: 'CP Aloysius Okorie, Samuelson has confessed and said all sort of things.' The CP came with a woman, who I later learnt was the state director SSS. The commissioner of police said I should look at my governor and cooperate with him. The state director of SSS said to me: 'My son, cooperate with His Excellency.' Then, I turned to CP and said, 'Nnanyi Aloysius Okorie, you have put yourself into trouble. I followed those armed men because you asked me to follow them and I told you that I will hold you responsible should anything  happen to me. Now, look at my body.'
When I made those statements to the CP, he turned to the governor and told him that when those men came to pick me up I called him and I made calls to other people. That was the time Ohakim panicked and he became afraid and knew that his game was up. It was then he asked me to put on my clothes and the CSO led me out of the governor's office. As I was moving out, I was holding the wall and moving sluggishly. I was in pains. The jeep was still parked out side. When I later entered the jeep, the CSO droved to another compound, in the same Government House. I came out and I sat down on the floor. The man pulled his gun again on me and  started demanding some documents and my laptop. He left me with security men guiding me and they tried to console me and poured some  water on me. He came back with a car, not the jeep and ordered me into the car. We droved straight to the commissioner of police's office. I was handled over to the commissioner of police, in his office, in the presence of the state director of SSS, by the CSO. I was in pains.
The CP called another man at the command and handled me over  to him. The man took me to his office, down stairs, at the CIB department. I showed him my body and told him that the governor beat me. He became confused because he didn't known what was going on. I removed all my clothes and showed him the wounds inflicted on my body by the governor. He was just looking at me dumbfounded. He later called another officer to look after me and left. He came back and handed me over to another officer. The officer wanted to interrogate me, but I told him that the governor beat me. He showed me the petition on how Ohakim loots Imo State and asked that I should explain. I told him that I was in pains and I would not say anything until I saw my lawyers. I was dumped in the cell containing about 48 people.
The next morning, I was brought out and they told me that I would be taken to court. I told them there was no problem. My lawyers were yet to come. I wrote a statement narrating what happened, from my house to the time the governor beat me up. I also owned up to be the author of the petition to the Inspector General of Police and my readiness to prove it. They were shocked. When the CP read my statement, they said that they wouldn't take me to the court again, being Friday. I was locked up again. Then one of my lawyers came, Barrister Paulinus Okere. He saw my wounds. I was locked up till Monday and then on Monday I was dragged to court. My other lawyer, Barrister L. M. Alozie, in court,  requested that I should pull off my clothes and tell the court what happened. The magistrate, Mrs. Victoria Isiguzo, overruled my lawyer's request.