Pandemonium In Rivers House Of Assembly As Pro-Jonathan Legislators Smuggle In Mace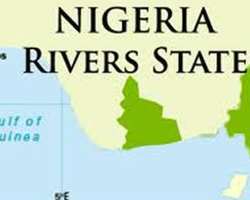 SAN FRANCISCO, July 09, (THEWILL) - The Rivers State House of Assembly was this afternoon (local time) thrown into chaos as a few anti-Governor Rotimi Amaechi legislators and militants, who are supporters of First lady Patience Jonathan, led by Hon. Evans Bibi, smuggled a mace into the Assembly, desperately hoping to seat and impeach the current Speaker of the House, who is a staunch supporter of Amaechi, and eventually begin the impeachment of the Governor.
The desperate pro-Jonathan train were however resisted by pro-Amaechi legislators and supporters present.
THEWILL gathered that the anti-Amaechi legislators and thugs were escorted to the Assembly by policemen.
During the chaos, the Majority Leader of the House, Hon. Chidi Lyod, a staunch supporter of Amaechi, was assaulted physically by the opposing group. He is presently in a local hospital receiving treatment.
Witnesses said the State Security Service (SSS) stepped in to bring calm to the Assembly.