Ini Edo Turns Bouncer To PA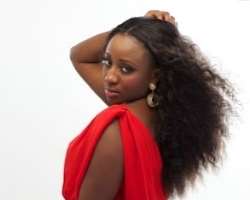 Ini Edo is in the news again, yes, in the news but this time, she is in the news because she recently turned one of her bouncers to her Personal Assistant. And how is that my business you may ask? but remember, NFC is a gossip site and we do gossip.
Back to the matter. The star actress was recently in Enugu for a movie shoot. And trust some Enugu people, they rushed to the Akwa-Ibom State-born wife of an Edo State-born US-based businessman, to flock her like ants do to sugar.
In an effort to control some overzealous fans who have come to glance at their queen at the Akanu Ibiam airport in Enugu, Ini Edo ordered one of her bouncers to work as her PA.
As we heard now, the able-bodied PA is doing his job very well in every ramifications. Those who should know even squealed to us that the actress has allegedly sacked her former female PA. Who won't like to have a 'Spatacus' as a PA?