Meet Elsie Chichi King a Multi-talented Creative Lady that is breaking barriers and making impact in all areas of Entertainment...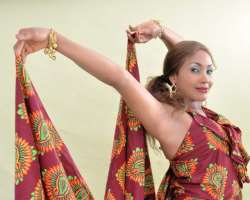 Elsie Chichi Ezekwesili popularly known as Elsie Chichi King is a Nigerian Actor, Fashion Designer,CEO NVY Clothing, Musician, Model. She hails from Anambra state but grew up in Kaduna State. She has a degree in Mass Communication from the ABU Zaria.
Elsie has always had a flair for fashion and music right from her childhood days. She came into the entertainment industry in 2009 after coming second in a sing along competition organised then by Mandy Brown @ Brilla FM, Lagos. She went ahead to release a single titled JIGIDEM produced by Nelson Brown, she shot the video and it was produced by renowned music producer Gbenga Salu and the Music earned her 2 nominations at The Nigerian Music Video Awards (NMVA) 2009 for best gospel video and the best video with special effects.
She ventured into the fashion world, creating her own designs. She participated as a Fashion Designer at the Galaxy Tv Fashion Show where her designs and clothing line rocked the runway.rain in the industry since
She debuted her face on screen as an actor in 2010 when she featured as sublead in a film directed by Chidi Nwokeabia titled
OMONO. Elsie has been a fast moving train in the industry since then and she has since been part of really good productions like: On Bended Knees, Echoes, School, Storm, Twetters, Belle's place, The Family, Wale Adenuga's Productions, Crazy Prince, just to mention but a few...
As a model Elsie is also very successful and has been part of several TVCs, Billboard shoot, Press release e.t.c...Like: So Klin Tvc, LG (anti mosquito television commercial) ...
Creativity has always been the order of the day for Elsie, she says she is inspired by nature, colours, films, music, fashion, art, music, e.t.c.
Elsie believes that we as humans have more capability to do so much more than we think and she wants to be a living example of that Woman that pushed the limit. Her personal motto is: Everything and Anything is possible if you believe and put your spirit, soul and body into it.