Boko Haram: 6,420 Nigerians Flee To Niger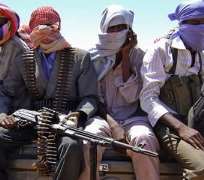 SAN FRANCISCO, July 07, (THEWILL) - Indications have emerged that about 6,420 Nigerians fleeing the Boko Haram attacks in Monguno, Kukawa and Abadam Local Government Areas of Borno State have become refugees in Niger Republic.
Disclosing this while speaking at the Nigerien border town with Nigeria, Bosso, on Saturday, the Secretary Generale of Diffa Province, Hassan Ardo, disclosed that 6,420 refugees from Nigeria have been resettled in four centres in Diffa.
Bosso is a stone throw from Nigerian border town of Mallam Fatori and 262 kilometres north of Maiduguri, the Borno state capital, where the heaviest of Boko Haram attacks have taken place in the last two years.
According to Ardo, out of the 6,420 refugees in the Nigerien Province of Diffa, 1,500 have taken refuge in Bosso with the rest in other towns of Mamuri, Bulagana and Garin Ahmadu.
Ardo said the cordial diplomatic relationship between Niger Republic and Nigeria as well as the common cultural, religious and ethnic similarities being shared by two nations informed the Provincial Government's decision to resettle all the displaced persons from Nigeria.
Ardo said, the people of Niger had been living in Nigeria for many decades, without causing any diplomatic hitches to lives and property, insisting that the Boko Haram insurgency was an act of God that will end with people's continuous prayers; and vigilance of each and every citizens
of the two countries.
"Our people and the Nigerian citizens, both living here in Bosso town of Niger Republic or Nigeria, are like brothers and sisters, who have never quarreled or fought on issues that affect their lives.
" But today (Saturday), the situation of this relationships is being altered by the Boko Haram attacks and killings in the two neigbouring countries.
" The fleeing of our people, including Nigerian citizens into Niger, will not break up the existing cordial relationship between us.
"Instead, we all welcomed them here to Bosso town in Diffa province by providing them with food items and other relief materials, amounting to over 300 metric tons, " he said.
Ardo further disclosed that to prevent any outbreak of diseases at the four resettlement centres, all the women and children had been vaccinated against the six child-killer diseases, including polio and measles.
Borno State governor, Kashim Shettima, who was represented by his deputy, Alhaji Zanna Umar Mustapha, in his remarks, thanked the Governor of Diffa for resettling the fleeing Nigerians, including the over 4, 900 Nigerians that were displaced and fled to Bosso, because of Boko Haram attacks and killings in the council areas of Monguno, Kukawa and Abadam of Borno State.
He said the cordial relationship between the two countries should not be allowed to be destroyed by the Boko Haram insurgency, as the neighbouring countries have common culture, religions and ethnicity, including existing inter-marriages among the various ethnic groups.
The deputy governor explained that peace is returning to Borno State and urged the fleeing residents to return to Nigeria, promising that food items and other relief materials will be provided for distribution at Mallam Fatori, the council headquarters of Abadam Local Government Area.
"As I am addressing all of you here today at this border town over the displacement and fleeing of our people from the Boko Haram insurgency, security of life and property in Borno State has improved by 70 per cent. I am begging you to return home, as things have normalised," he said.