Archbishop Adetiloye: Tinubu, A Dogged Fighter, Leader Of Good Causes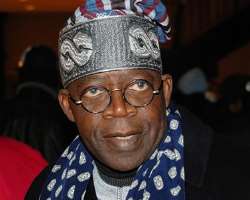 ACN NATIONAL LEADER, ASIWAJU BOLA TINUBU
SAN FRANCISCO, July 07, (THEWILL) - Archbishop Atilade Adetiloye of the Anglican Diocess and President of the Christian Welfare Initiative, CWI, on Saturday hailed the virtues of the National Leader of the Action Congress of Nigeria (ACN) and former governor of Lagos State, Asiwaju Bola Tinubu, describing him as a dogged fighter and a champion of good causes.
"Tinubu is fighting for all Nigerians and we need more people like him in this country, " Archbishop Adetiloye declared while speaking during a condolence visit to Tinubu over the death of his mother, Alhaja Abibat Asabi Mogaji.
The Archbishop, who led a team of clergies and members of the Christian Welfare Initiative to the former governor, wondered if Nigeria was cursed going by the level of poverty and government waste, asking: "Is Nigeria under a curse?No. But we need good leadership to deliver us."
While maintaining that the former governor is well- endowed with the qualities needed for good leadership of the country, Adetiloye assured Tinubu that "You have people that can stand behind you at all times."
ArchBishop Adetiloye also described the late Alhaja Mogaji as a righteous woman who never discriminated against any religion or tribe."The memory of the righteous is everlasting, " he said, noting that the late President General of the Market Women and Men Association of Nigeria was a mobilizer par excellence, and one who touched the lives of many people and played a pivotal role in what became the successful campaign of the primary health programme in Nigeria today.
"Mama had a heart of passion and compassion. She showed burden for others and showed kindness in attitude , words and deeds. Alhaja Abibat was her brother's and sister's keeper and a staunch supporter of what was just," the Archbishop said . He said the late mother of the former governor treated all as family members , though a disciplinarian even as he congratulated Tinubu on having such an illustrious mother.