Boko Haram: Borno ANPP Says Burning Of Othman's House Political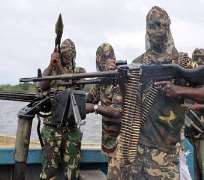 The Borno state chapter of the All Nigeria People's Party (ANPP) had today condemned the burning of its state chairman's house by the youth vigilante on the allegation of his being an accomplice of the Boko Haram.
The party said both the accusation of Alhaji Mala Othman and the burning of his house were politically motivated by extraneous forces that have infiltrated the youth vigilante.
In a press statement issued after a crucial meeting, and signed by the state secretary of ANPP, Alhaji Bakura Shettima, the party said they would have ordinarily ignore the incident if it was not ostensibly targeted to smear the proven integrity of Othman.
Shettima said 'Our party chairman, Othman, is an accomplished politician who has the interest of the people and the development of the state at heart. Accusing him of such behavior is witch hunting of which the people of Borno state are never known for.
Shettima argued that the attempt to implicate the ANPP chairman in the activities of the outlawed Boko Haram sect was a total contradiction of the basic facts on ground.
'In order to put the records straight, we want to establish the fact that it is on record that 99 percent of politicians killed since the Boko Haram insurgency began in the state are members of the ANPP, the ruling party in Borno state. The party has put Borno State on the path of unprecedented development under the able leadership of our State Chairman, Alhaji Mala Othman, who is a leader with unquestionable character. With this background, it is unimaginable to say that he is sponsoring the killing of his own people.
'We are appealing to the Youth Volunteers to be careful not to take the law into their hands and should be aware of politicians who might use them against their opponents in order to score cheap political goal.
Bakura who called for full investigation of the Monday assault on the ANPP chieftain, equally appealed that 'the youth volunteers should therefore confine themselves to the areas where they live and report any suspicious people or movement to security agencies for necessary action'.
Last Monday the youth vigilante hunting for Boko Haram in Maiduguri attacked the New GRA, Maiduguri home of Mala Othman attempting to arrest him, but ended up burning his house after he was helped to escape by security operatives.
***Abdulkareem Haruna***
Reporter, Borno State
+2347034246574
+2348057244878