USADF Makes a Three Year Commitment to African Entrepreneurs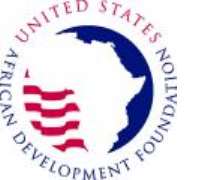 WASHINGTON, July 3, 2013/African Press Organization (APO)/ -- United States African Development Foundation (USADF) President Shari Berenbach announced today a three year commitment to support President Obama's Young African Leaders Initiative (YALI) beginning in October 2013. YALI is a new flagship program designed to support young African entrepreneurs in ways to accelerate economic growth and strengthen democratic institutions across Africa. USADF will award up to 200 young Africans taking part in the Washington Fellows Program from 2014-16 with $25,000 Entrepreneurship Grants, to initiate or expand their business and social enterprises back in their home countries. USADF also will help ensure that the opportunity to participate extends to the best and the brightest even in remote and marginalized communities in Africa.
The White House fact sheet on YALI noted the critical need to invest in the next generation of African leaders to ensure the success of Africa's democracies and its economies. One in three Africans is between the ages of 10 and 24, and approximately 60 percent of Africa's total population is below the age of 35. Through YALI, the United States is committing significant resources to enhance leadership skills, bolster entrepreneurship, and connect young African leaders with one another, with the United States, and with the American people.
USADF's part of the program has two important parts – one provides small grants to young social entrepreneurs to launch and scale-up their ventures upon returning to their home country. A second aspect of the program helps ensure that talented candidates from rural and under-served regions in Africa have a seat at the table. Ms. Berenbach stated that, "USADF's involvement will help ensure that these initiatives reach into grassroots communities and benefit marginalized populations. USADF is dedicated to creating access to economic opportunity to those who have historically been outside the mainstream."
USADF has a 30 year track record of expertise in fostering African-owned and implemented solutions to today's problems. USADF's participatory development approach, applying grant funds to solve locally identified problems and relying on local partners organizations support project implementation, creates greater ownership in the development process. In turn, this generates better, more sustainable outcomes.
The U.S. African Development Foundation, a federally funded public corporation, impacts 1,200,000 people in marginalized communities across Africa through an innovative economic development grants program. USADF supports African-originated solutions to generate jobs, increase incomes, and raise living standards in conflict and post-conflict environments. USADF is proud to partner with American and African corporations and host country governments to achieve sustainable results