ROMAN POLANSKI WINS BEST DIRECTOR AWARD AT BERLIN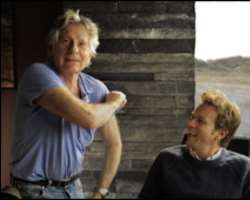 nerPostTitle">ROMAN POLANSKI WINS BEST DIRECTOR AWARD AT BERLIN Written by Prince Entertainment http://www.nigerianbestforum.com/blog/?author=1 http://www.nigerianbestforum.com/blog/?cat=397 Feb 21, 2010
http://www.nigerianbestforum.com/blog/wp-content/uploads/2010/02/47342462_polanskighostap226b.jpg Polanski was held in Switzerland while The Ghost Writer was in production
Roman Polanski has won the Silver Bear for best director at the Berlin Film Festival for his new political thriller, The Ghost Writer.
Polanski could not accept the award as he is under house arrest and fighting extradition to the US over a conviction for having sex with a minor in 1977.
His producer, Alain Sarde, said he would be "very happy" with the honour.
The Turkish film, Bal (Honey), was the surprise winner of the coveted Golden Bear for best picture at the festival.
Directed by Semih Kaplanoglu, it tells the story of a six-year-old boy who ventures into the woods to find his missing father, a beekeeper.
The runner-up prize was awarded to the Romanian entry, Eu Cand Vreau Sa Fluier, Fluier (If I Want To Whistle, I Whistle), a tough prison drama about a teenager who escapes from jail to stop his mother taking his brother away to Italy.
Appeal
The Ghost Writer, which is about a writer hired to complete the memoirs of a former British prime minister, had its premiere at Berlin.
Accepting the best director prize on Saturday, Sarde said: "I am sure Roman will be very happy."
"However, when I was lamenting with him that he cannot be with us, he said to me, 'even if I could, I wouldn't because the last time I went to a festival to get a prize, I ended up in jail.'"
Sarde was referring to Polanski's detention by Swiss authorities in September when he travelled to Zurich to receive a prize.
Last week, Switzerland said it would not decide whether to extradite the 76-year-old until an appeal over his US trial was resolved.
A judge in Los Angeles ruled in January that Polanski had to attend court in the US if he wanted to resolve the case.
He left the US in 1978 before sentencing and has never returned.