Borno: 'Civilian JTF' Sets ANPP Chairman's House Ablaze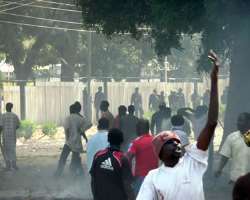 … Attempts To Torch Modu Sherrif's Residence
SAN FRANCISCO, July 01, (THEWILL) – Despite the assurances given by the military Joint Task Force (JTF) in Borno State, Operation Restore Hope, weekend, to monitor the activities of the youth vigilante group, popularly called the 'Civilian JTF', with the view of curbing their excesses as they assist security operatives in the crackdown on Boko Haram, the youths, on Monday, went after the chairman of the All Nigeria People's Party (ANPP), Alhaji Mala Othman, in Maiduguri, the state capital, over allegation of funding the activities of Boko Haram insurgents in the state.
And when they could not lay their hands on him, as the man was literarily smuggled out of the house by his aides, the machete-wielding irate youths burnt down his house as they also blocked the road leading to the house, chanting war songs and holding up traffic in the area.
As if that was not enough, the youths, apparently annoyed by the escape of their target, attempted to vent their spleen on the former governor of the state, Alhaji Alli Modu Sherrif, who is considered as the political godfather of the ANPP chairman in the state. But they met a brickwall in their bid to also torch Modu Sherrif's palatial mansion as security operatives attached to the former governor shot sporadically into the air to disperse the rampaging youths.
Sources in the state capital said the Civilian JTF had been planning to bring Othman to book over his alleged complicity in the Boko Haram insurgency for some time now without success. But when they got wind that the ANPP chairman was in town, the youths, numbering about 200, stormed his residence at about 10:30am to arrest and hand him over to the JTF.
However, when they realised that the man had escaped again, they ransacked the building , harassing whoever was inside before setting the house ablaze.
According to a source, the angry youths thereafter proceeded to the house of the former governor, Modu Sheriff, chanting "Saura Mai Gidan shi, " meaning it remains the house of his boss.
They were said to have been hailed by residents of the town as they trekked the five kilometre distance with different weapons , holding up traffic as they marched towards Modu Sherrif's house where they were eventually dispersed by the sporadic gunshots of security operatives attached to the house.