ACN Flays Ongoing Campaign Of Calumny, Faults Ethno-Religious Sentiments Against APC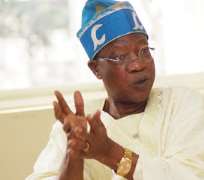 SAN FRANCISCO, June 30, (THEWILL) – The Action Congress of Nigeria (ACN) on Sunday condemned what it described as the persistent campaign of calumny against the yet-to-be-registered merger group, All Progressives Congress (APC), saying the attempt to use ethno-religious sentiments to destroy the budding party was "a cheap shot that has fallen flat on the faces of the purveyors of falsehood."
ACN, in a statement issued in Lagos by its National Publicity Secretary, Alhaji Lai Mohammed, however expressed appreciation to Nigerians for rejecting what it called "the attempt … by those who are hell bent on perpetuating mediocre leadership in Nigeria."
According to the opposition ACN, "These purveyors of falsehood do not want good governance. That's why they are peddling the lies that the interim leadership of the APC is controlled by Muslims, and that it did not reflect the country's plural values."
The statement said ''The truth is that while ethno-religious sentiments did not form the criteria used in selecting the interim leadership, we were conscious that Nigeria is a country of plural values," adding: " That is why we have 17 Christians and 18 Muslims (the best balance possible in the odd number of 35 posts that were shared). That is why the 35 occupiers of the positions are from 29 different states, four more than the 25 stipulated by INEC. It was equal opportunity across all zones!''
The party therefore challenged "anyone who doubts the authenticity of the facts and figures quoted above to verify them at INEC, instead of taking to the social media to spread rumours," even as it described the latest attempt to abort the APC vision as the last-ditch effort by those who have mounted similar campaigns against the party in the past, to no avail.
''First, they ambushed us by duplicating our acronym, sponsored of course by those who are well known to Nigerians, and, when that failed to slow down our momentum, they said the sharing of posts will divide us and ultimately sound our death knell. With these moves having failed woefully, they have now played what they considered their most potent joker: the ethno-religious card.
"Thankfully, this too has failed. Nigerians are so desirous of good governance that they will not allow any play on sentiments to shake their resolve,'' the party said in the statement.
Maintaining that the promoters of the APC are so determined to give Nigeria the good leadership that has eluded the country for so long, ACN said APC's promoters have decided to shelve their differences and make whatever sacrifices that are necessary to achieve their objective.
The party however appealed to all Nigerians who want an end to what it described as "the rapacious and incompetent leadership currently plaguing their country" to continue to disregard the attempts "by enemies of progress to sabotage the birth of the APC, in addition to being vigilant in the days ahead."