50 Boko Haram Feared Killed As JTF Busts Fresh Attack In Maiduguri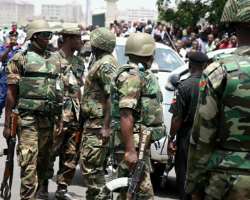 … Civilian JTF Arrests Three Suspects From Bama On Deadly Mission to Jigawa
SAN FRANCISCO, June 30, (THEWILL) – Indications emerged on Sunday that a deadly clash, weekend, between the men of the Joint Task Force (JTF) in Borno, Operation Restore Order, and members of Boko Haram in Zabarmari ward, which is a black spot and stronghold of the insurgents on the outskirts of Maiduguri, the state capital, may have claimed the lives of 50 members of the sect.
An impeccable security source told THEWILL that the JTF had moved in swiftly, based on intelligence report, to bust a coordinated attack in the Zabaramari area of Jere Local Government Area, a few kilometres from Maiduguri.
"We received an intelligence report that several number of Boko Haram terrorists have regrouped and were residing and hiding in this ward. We mobilised our troops to the area, and on reaching the place, the suspects upon noticing our presence, began to chant: "Allahu Akbar," (God is Great) and started shooting sporadically at us. We therefore had no option than to repel the attackers; we succeeded in shooting dead 10 terrorists.
"We decided not to take away any of their corpses as we left them in the area, but the following day; when we mobilised our men to the area, we found out that hundreds of the terrorists were at one of the grave yards burying their dead ones, and when we approached, some of them started shooting at our troops which led to the exchange of gun fire for half an hour, that led to the killing of 40 of them. As I am talking to you now, our men are still in Zabarmari hunting for any suspected terrorist who might have escaped the deadly encounter, " the top security source told journalists on Sunday .
The clash came as three suspected Boko Haram members were arrested by the "Civilian JTF" , Saturday evening, at the Borno Express Motor Park in Maiduguri, on their way to Dutse, the Jigawa State capital, to launch fresh attacks.
"The men of the JTF are highly delighted with the zeal/effort being put in by the vigilante youth popularly called Civilian JTF. They were yesterday (Saturday) able to arrest three Boko Haram suspects at the Borno Express Motor Park. They later handed them over to the JTF local commander. But one of them is now dead. The terrorists are from Bama Local Government Area on a deadly mission to Jigawa and other states in the north. In fact, the deceased, before his death, told us that, already, all their weapons of massive destruction have been transported to the targeted areas; waiting for their arrival," the security source disclosed.
He added that the other arrested suspects, who seemed to be in stable condition, promised to take the JTF men to Bama to show them some of their members' bases and hideouts.