HOMOSEXUALITY IN NIGERIA & AMERICA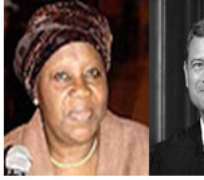 I was seriously pondering the appropriate caption for this article, including what picture to use. I thought about the highly publicized photo of Paul Katami proposing marriage to his white boyfriend Jeff Zarrillo in California, but realized that many Nigerians will be offended.
As I was meandering through a wooded and scenic road in the mountains of North Carolina on Wednesday, my thoughts were interrupted by breaking news. The news came through the airwaves of the Christian station (AFAR) that the United States Supreme Court had ruled that federal benefits could not be denied to same-sex couples, if they were lawfully married in a State that recognizes gay marriages. The court actually declared unconstitutional The Defense of Marriage Act (DOMA), which was passed in 1996. In America, Eleven States already recognize marriage between a man and man, or marriage between a woman and another woman. So, Adam can marry Andrew, Eve can marry Evelyn, Ada can marry Adaeze, Nkechi can marry Nkiru, and Chidi can marry Chinedu, if they lived in any of those States in America. So, can you imagine the following conversation in a Nigerian home in Asaba: "Chief, Elohor's family is visiting tomorrow and bringing wine to ask for our daughter Obiagelli's hand in marriage." For clarity, Elizabeth and Obiagelli's are both female, in case you are confused. Who will pay bride price? And the congregation said, "God forbid!"
In Nigeria, we are a nation of religious people, not necessarily God-fearing people. We like eye-service (youths will say pass magga). In my ignorance, I used to say categorically that we do not have gays in Nigeria. Imagine my amazement and disgust, when I was propositioned by a man at a major hotel in Abuja. In fact, when I complained to a friend, he laughed and told me that, if I wanted to move forward in politics and business, in some quarters, I will have to accept that as prevalent in Nigeria. He jokingly said it was because I was handsome. How about that for a loaded complement. He even told me that one of our friends that walks with a tight butt is boyfriend to some famous man. Shock of shocks. Of course, we are aware of "supe" among girls in boarding schools, but lesbianism is still tabooed, at least that is what I thought. To avoid a backlash, I will not give you the full details of what a taxi driver informed me at a famous Nigerian airport about a client that paid him more money than he has ever received, just for conveying him to a homosexual brothel and waiting to take him back to the airport. Apparently, it was a hush-hush open secret in that town.
In May 2008, the California Supreme Court granted gay couples the right to marry. This angered the citizens and pro-marriage groups such as The National Organization for Marriage. Thereafter, the angered voters passed Proposition 8 before the end of 2008, a law against same-sex marriage. The US Supreme Court essentially will now allow resumption of gay marriages indirectly because its ruling allows the suspended judgment that declared it unconstitutional to resume. I recall that after the Nigerian National Assembly (NASS) passed a law against gay marriages, there was outcry from the international community and silent regret by some closeted gay Nigerians. One of the outspoken critics of the law was a naturalized Nigerian-American woman. I wonder if we have gay people in our NASS or judiciary. Anyway, we will never know - at least not now anyway. No gay Nigerian has dared to challenge the constitutionality of the Nigerian law in court. Maybe it is the fear of retribution or realization that they will not make it out of the courthouse alive or in one piece.
Let me offer free immigration advice (suggestion). The US Senate has just passed a new immigration law by 68-32 vote. Hopefully, the House of Representatives will pass a similar law and it will be sent to President Obama for his signature after harmonization. You know your Kenyan American President of America loves gay people and immigrants. So, he will sign the bill into law. What does all this mean to Nigerians gays, fake gays and gay-wonna bes? All you Naija people that are willing to do anything to get to America, the new ruling means that you can find an American to marry you and you can get the highly coveted green card. It will not matter if you are of the same sex. Please do not tell U.S. Department of Homeland Security (DHS) or United States Citizen & Immigration Services (USCIS) that I mentioned it in my column. Anyway, they will eventually catch you as they do with all the 419 scammers and perpetrators of marriage fraud. In this case, you will not live down the family disgrace, especially after deportation.
Read Romans 1:26. May Almighty God help us!

Prof Alex O. Atawa-Akpodiete is an author, Computer Scientist, Educator, Consultant, lawyer, Political Analyst, Public affair analyst & Social commentator. He has a Doctorate degree in Jurisprudence from the US. He has lectured Law, Ethics and Security & Intelligence Studies at the University level here in Nigeria and US. He also writes for a state daily newspaper & national monthly journal. He currently divides his time between Nigeria and USA where he runs a PR and an international capacity-building firm ATAWA GROUP. Contact him on +1(917) 972-2034 or +234(0)8138391661 or [email protected] He is also on Facebook, LinkedIn and Twitter.
Disclaimer:

"The views/contents expressed in this article are the sole responsibility of

Prof. Alex O. Atawa Akpodiete, Esq.

and do not necessarily reflect those of The Nigerian Voice. The Nigerian Voice will not be responsible or liable for any inaccurate or incorrect statements contained in this article."
Articles by Prof. Alex O. Atawa Akpodiete, Esq.