2015 : Group Moves To Draft Lamido Into Presidential Race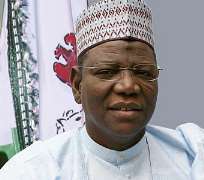 SAN FRANCISCO, June 30, (THEWILL) – A group which calls itself the National Forum for Lamido 2015 has begun moves to draft the Jigawa State governor, Alhaji Sule Lamido, into the 2015 presidential race.
The group, which is made up of politicians, youths and businessmen from across the 36 States in the country, met weekend for an emergency meeting in Dutse, the Jigawa State capital, where they called on the governor to get set to contest the 2015 presidential election.
It also promised to begin nationwide mobilisation for the actualisation of the objective.
"We need someone to move the country forward. We need somebody who knows the needs of the people and who will be dynamic enough to provide those needs. Governor Sule Lamido is the best man for the job" the group said in a statement issued after the meeting.
The statement signed by the Secretary of the group, Chief Ibrahim Babatunde Olorogun-Etti, also commended the Lamido for protecting lives and personal liberty, pursuing justice, providing health care, education and maintaining a sound administrative infrastructure in Jigawa State.
"Six years on, the story of Jigawa State has changed. Urban and rural roads, electricity and water supply projects, educational and health institutions as well as decent housing have all turned Dutse village into Dutse city. The governor has turned the state capital into a sprawling city of beauty and comfort," the statement said.
The group also hailed Lamido for what it described as the development of democratic culture and stable polity, giving beneficial leadership in the state and rekindling the specific interest of the business community in Nigeria and the general interest of the international community in the development of the state as well as the creation of jobs for the people.
"Governor Lamido deserves the biggest thanks for being a team player and for ensuring speedy development of the state," the statement said.
"What the governor has been doing in the last six years is something so phenomenal. If Nigeria is going anywhere in this democratic dispensation, it is people like Sule Lamido who would spearhead the attainment of that feat."
Describing the governor as pleasant, dynamic, diligent and hardworking, the group said: "We are very impressed about the people- oriented projects and programmes in Jigawa State. It is time for Nigerians to unite and support a person who can provide security, protect lives and property of the citizens, enhance unity, and provide opportunities for the youths."
The National Forum for Lamido 2015, according to the statement, is a political organisation established to mobilise Nigerians at home and abroad towards ensuring the emergence of Lamido as the president of the country in 2015.