Alleged fraudulent Businessman Jimoh Ibrahim To Be Guest Speaker At Police Anti-Corporate Fraud Seminar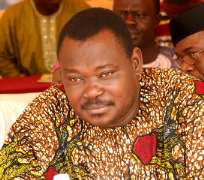 Has troubled Nigerian businessman, Jimoh Ibrahim, moved from criminal to magician?
The controversial magnate is scheduled to be a guest speaker next week at an event organized by the Nigerian police and the UK Metropolitan Police in collaboration with the Central Bank of Nigeria and the Asset Management Corporation of Nigeria.  In effect, he will be speaking to some of the very people who, in theory, are examining his nefarious activities.
The choice of Mr. Ibrahim, who is currently under investigation for fraud by the Economic and Financial Crimes Commission (EFCC) and the Federal Inland Revenue Service (FIRS) for tax evasion, has set tongues wagging.
Just a month ago in New York, Mr. Ibrahim was dragged to court by Aersale Inc., an aircraft leasing company, over nearly $8million he owes in leasing fees, interest, costs, and attorneys' fees.
Mr. Ibrahim entered into an agreement with the company as a guarantor to lease two Boeing 737-300 airplanes for his airline, Air Nigeria, which has since folded up.
A former staff member of Mr. Ibrahim's company described him as a man who has embezzled, defrauded and killed many companies in Nigeria.  He said, "Mr. Ibrahim killed NICON Airways, killed NICON Insurance, killed Energy Oil, buried Air Nigeria – Nigeria's Flag carrier and best customer airline, buried Newswatch Magazine."
Recently Saharareporters investigations revealed that Mr. Ibrahim embezzled N36 billion from a federal aviation bailout fund administered by the Central Bank of Nigeria. The money had been provided to shore up the airlines. The FIRS also accuses Ibrahim of failing to pay taxes worth N3.5 billion and of embezzling employees' cooperative funds, pension funds, tax deductions and tax revenues accruing to the Nigerian government.
The Commissioner of Police in charge of the Special Fraud unit, Tunde Ogunshakin who is believed to be a close friend of Mr. Ibrahim, is responsible for putting together the weeklong "Corporate Fraud" conference from July 1-5, 2013.  It is unclear if Mr. Ibrahim has magically done a deal to educate police bodies about how to prevent such fraud, including across borders.
So far, he continues to be investigated for fraudulent activities relating to corporate fraud in several courts and policing agencies in Nigeria.
Sahara reporters