Amaechi Adjourns NGF Meeting For Jonathan As President Taps Two Female Ministers For Elective Positions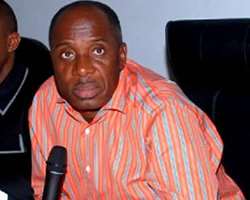 RIVERS STATE GOVERNOR, HON. ROTIMI AMAECHI
SAN FRANCISCO, June 26, (THEWILL) – In what is being considered as respect for President Goodluck Jonathan, the chairman of a faction of the Nigeria Governors Forum (NGF) and Rivers State governor, Hon. Rotimi Amaechi, Wednesday night, adjourned the meeting of the NGF to honour the President who was being hosted to a dinner by 13 female Ministers, led by the Minister of Petroleum, Mrs. Diezani Allison-Madueke.
Amaechi and his supporters in the NGF, who had gathered for the meeting, had to adjourn the meeting to attend the presidential dinner.
"We were holding NGF meeting and we agreed that those of us who were there should honour the President and attend the dinner. We have attended. You saw all of them. Some have left and I am leaving too," Amaechi told journalists at the end of the dinner. 

The dinner, hosted to celebrate the mid-term achievements of the Jonathan Administration, especially for its gender-friendliness, held at Banquet Hall of the State House, Abuja and was attended by the President of Malawi, Mrs. Joyce Banda, her Sierra Leonean counterpart and President Ellen Johnson-Sirleaf of Liberia. Also at the function were former Ghanaian President, John Kufuor and Zimbabwean Deputy Prime Minister, Arthur Mutambara.
Speaking at the dinner titled 'Champion for Women', President Jonathan, who said Nigeria has not done well in encouraging women to seek and hold political offices, gave two female ministers, who he didn't name, the option of supporting women who wishes to forage into politics if they are not interested themselves.
The dinner also featured the launch of a book, titled Goodluck Ebele Jonathan: Champion for Women, coordinated by the minister for petroleum resources, Allison-Madueke. It also featured a short drama titled "The President's Council", a dance performance by Crystal Petals and a mini documentary titled "Women of Strength". 


Commenting on the book, which was reviewed by Ambassador George Obiozor, Allison- Madueke hailed the President for his courage in not only appointing women into his administration, but also putting them in charge of high profile positions in the country, saying such giant stride puts him on a high pedestal both at home and abroad.