FG To Upgrade NTA To International Standard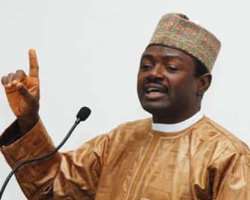 The Federal Government says it is upgrading the Nigerian Television Authority (NTA) into a global outreach that will provide platform for the nation's leaders to communicate to the world instead of using foreign television stations.
Information Minister Mr. Labaran Maku gave this indication in Abuja when he inaugurate the Board of Directors of NTA.
He said because of the importance of Nigeria in Africa, the nation needs a vibrant television station that could compete favourably with all the prime TV stations around the world.
'Nigeria is a very important nation in this continent and the dream we have in this ministry is that we will want in future that anyone that wants to hear what Nigerian leaders are saying, they should hook on to NTA and not that we will be speaking to the world through foreign stations.  NTA is in a position to deliver on this to the people of Nigeria', he said.
Mr. Maku stated that when the digitisation regime in broadcasting takes off in 2015, NTA being the public carrier should be more focussed on content development that would attract global viewership.
The Minister, who decried the marginalisation of Africa in the global news network which was largely caused by the nonchalant attitude of the people towards the development of organs of information dissemination, said the present administration is poised to reverse the trend in the country by promoting the development and growth of both the public and private television stations.
He was of the opinion that the combine capacity of private and public television stations could project the interest of Nigeria in the global market place of ideas without undermining the nation's integrity.
Mr. Maku who listed the challenges of total commercialisation, new technology, improved service delivery and quality of programmes as some of the obstacles before NTA, urged the new board to harness their experiences and knowledge to overcome the challenges.
Responding on behalf of the Board Members, the Chairman, Mr.
Patrick Ogbu pledged to utilise the NTA to mobilise Nigerians and the international community in support of the Transformation Agenda of the present administration.
He said they would bring their collective experiences to bear to reposition NTA not only for quality in service delivery but also for the achievement of global best practices in the broadcasting industry.