Lekoil Hits Oil Offshore Nigeria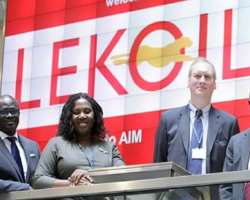 Lagos (Nigeria), June 26, 2013 - Lekoil Limited ("Lekoil" or the "Company") has announced the discovery of a significant light oil accumulation at the high impact Ogo-1 well located on the OPL 310 licence offshore Nigeria, based on the results of drilling and wireline logs.
The Ogo-1 well is being drilled by Afren Plc ('Afren'), as technical partner, under a farmout to Lekoil of OPL310, offshore Nigeria ('OPL310'), as announced on 14 May 2013. The well has been drilled to a total measured depth of 10,518ft (10,402ft true vertical depth subsea ('TVDSS')), and has encountered a gross hydrocarbon section of 524ft, with 216ft of apparent stacked, net pay.
Further wireline log evaluation is currently underway prior to extending the well to target deeper prospectivity above basement, to a total measured depth of 11,800ft (11,684ft TVDSS). The expected timetable for completion of this further drilling together with additional testing is four to six weeks (inclusive of drilling a planned Ogo-1 side-track well).
Speaking on the development, Lekan Akinyanmi, CEO of Lekoil, said: 'The discovery of oil in the Ogo-1 well opens up a new oil basin in an underexplored region and represents a possible extension of the Cretaceous play along the West African Transform Margin. The discovery is a clear validation of Lekoil's technical analysis and of our extensive studies on the Dahomey Basin.
According to Lekan, 'Results to date indicate that the discovered resources could be significantly in excess of P50 estimates prior to drilling. While Lekoil notes these results are preliminary, we believe there exists substantial scope for upward revisions to the data announced today as drilling and interpretation continues.
'We look forward to working with our Partners to realise the full potential of Ogo and the additional prospects on the license', he added.
The Ogo-1 discovery, testing a four-way dip-closed structure in the Turonian, Cenomanian, and Albian sandstone reservoirs, confirms the extension of the same Cretaceous play that has yielded other significant discoveries along the West African Transform Margin.
The results also indicate a working hydrocarbon system that is weighted more towards liquids than gas. This has been confirmed by MDT samples; light oil samples in the Turonian and Cenomanian sands and condensate samples in the Albian sands.
Following the completion of drilling and testing operations at Ogo-1, the Partners in OPL310 (the 'Partners') plan to drill a side-track well, Ogo-1 ST, which will test a stratigraphic pinch-out trap on the flanks of the basement high - a new potential play in the area.
Following completion of the farm out to Lekoil, as announced on 14 May 2013, the Partners' participating and economic interests on the block will be as follows:
Participating Interest**         Economic Interest*
Optimum         60.00%                 30%
Afren             22.86%                 40%
Lekoil             17.14%                 30%