Detained Boko Haram Members Embrace Amnesty In Borno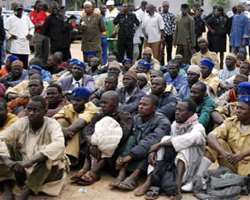 SAN FRANCISCO, June 26, (THEWILL) – The Presidential Committee on Dialogue and Peaceful Resolution of Security Challenges in the North, chalked a major success on Tuesday at a detention centre in Maiduguri, the Borno State capital.
The over 50 detained members of Boko Haram sect at the centre told the Presidential Committee members led by their chairman, Kabir Taminu Turaki, that they were ready to embrace the Federal Government's Amnesty offer and assist in ending the crisis.
One of the detainees at the centre visited by the members of the Committee, Adam Konto, who described himself as the Amir (commander) of the Bayan quarter, and spoke on behalf of the other detainees, promised that they were ready for the amnesty arrangement with the Federal Government as he disclosed that most of them were brainwashed into joining the dreaded sect.
"We pledge to assist the authorities if given a second chance while admitting to our crimes.
"Most of us were brainwashed and recruited into the sect and given dastardly acts to do without our full understanding of what we were doing," he said.
The suspects also expressed gratitude to the Nigeria Police for not killing them immediately they were arrested as they have been treated well .
"The police have been treating us fine. We have been allowed to take our birth and have been well fled," one of the detainees, Babagana Saje, said.
Responding, chairman of the Presidential Committee,Turaki,assured that their cases would be looked into,saying "if you are sincere with this information we have gathered, we will bring you into the proposed amnesty agenda."