Niger junta bars itself from future elections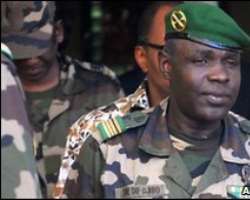 The junta leaders have not yet set a date for elections
Members of Niger's military junta and the interim administration it is setting up will not be allowed to run future democratic elections.
Junta spokesman Abdoul Karim Goukoye reiterated that the coup leaders' priorities were to hold transparent polls and restore democracy.
President Mamadou Tandja was overthrown a week ago after a decade in power.
Col Goukoye said that Morocco had offered to shelter Mr Tandja, but this was denied by Rabat.
Mr Tandja and several of his ministers are still under house arrest.
Niger's main opposition party has called for Mr Tandja to be tried for high treason because of his decision last year to scrap limits on the presidential term in office, which went against a ruling by the Supreme Court.
Earlier in the week Mahamadou Danda was named as a civilian prime minister to oversee the transition to democracy.
The junta has not set a date for the new polls.
"I have asked for the necessary guarantees to be sure of committing myself in the process leading to a real restoration of democracy," AFP news agency quotes Mr Danda as saying in his first public comments since his appointment.
Niger has experienced long periods of military rule since independence from France in 1960.
But Mr Tandja's supporters argue that his decade in power brought a measure of economic stability to the poor West African nation.