Jonathan Rejects State Of Nation Address Bill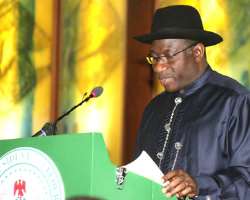 PRESIDENT GOODLUCK JONATHAN
ABUJA, June 25, (THEWILL) – President Goodluck Jonathan has declined assent to a Bill passed by the National Assembly seeking to compel the President to give an address on the State of the Nation to a joint sitting of the two chambers of the National Assembly every "30 days of the beginning of every legislative year."
His withdrawal of assent was contained in a letter addressed to the Speaker of the House of Representatives, Hon. Aminu Waziri Tambiwal.
The president, in the letter, hinged his rejection of the Bill on some of its clauses which undermine his discretion on the matter.
He argued that the proposed law is unnecessary, given that section 67 of the 1999 Constitution had already provided for such an address.
"I have examined the Bill and the objectives for which it is being proposed and wish to draw your attention to section 67 of the Constitution of the Federal Republic of Nigeria 1999 which provides that: The President may attend any joint meeting of the National Assembly or any meeting of either House of the National Assembly , either to deliver an address on national affairs, including fiscal measures or to make such statement on the policy of government as he considers to be of national importance.
"Your Excellency, in view of the express provisions of section 67 above, I am of the considered opinion that the 1999 Constitution has made ample provision for the kind of address contemplated by the Bill. It would therefore amount to a duplication to enact legislation on the same subject matter," the letter stated.
Jonathan added that "this is more so as the proposed legislation seeks to circumscribe the President's discretion regarding whether or not he should attend the joint meeting of the National Assembly or of any meeting or either House of the National Assembly; the time to present the address; his determination of which policy of government is of 'national importance' for the purpose of address; in addition to the threat of the use of coercive powers in the event of non compliance. This is my humble view is inconsistent with the doctrine of separation of powers and the letter and spirit of the Constitution."
He proposed amendments to Clauses 1(2), clause 3, 5 and delete clause 6 of the proposed law before he could sign it into law.
According to him, Clause 1(2) "should be redrafted to make it more flexible by substituting it with the following words: "The State of the Nation Address shall be delivered to a joint sitting of the National Assembly within 30 days of the commencement of the Legislative year."
He added that: "Clause 3, which purports to empower the National Assembly to summon the President where he decided not to make the address, should be substituted with a clause that accords with the language of the Constitution."
The President went ahead to propose his own amendment to the bill stating that "Where for any reason the President is unable to present an address in accordance with section 1 of this Act, the President shall in writing inform the President of the Senate and the Speaker of the House of Representatives and either: designate the Vice President to present the address on his behalf or transmit to the President of the Senate and the Speaker of the House of representatives, the text of the address."