PDP Faction Blast Wike Over Leadership Claims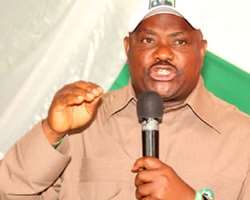 A faction of the Peoples Democratic Party, PDP in Rivers State loyal to Chief Godspower Ake has described as 'laughable and ridiculous' recent claims by Minister For State, Education, Mr. Ezebuwon Nyesom Wike, announcing himself the new leader of the ruling party in Rivers State.
Debunking the claims made by Wike at Elele in Ikwerre local government of the state on Sunday, as alien to the PDP, the Ake-led PDP tasked Wike to study the party's Constitution as no such title or office as Acting Leader exists.
'It is ridiculous and laughable for the Minister of State (Education) Ezebuwon Nyesom Wike, to infer that he is now the leader of the party in the state.'
Reacting to the Wike claims, the spokesman of the Ake-led PDP in Rivers State, George Ukwuoma-Nwogba, who spoke in Port Harcourt, said the Constitution of the Peoples Democratic Party is clear on the leadership of the party in the state and the nation. 'While our President Dr. Goodluck Jonathan is the leader of the party in Nigeria, our performing Governor and Chairman Nigeria Governors' Forum, Governor  Chibuike Amaechi, is the leader of the Party in the State,' Ukwuoma-Nwogba asserted.
Speaking further, the spokesman said it was expected of Wike to have been better informed than the party faithful he sought to mislead by the importation of what the founding fathers of the party did not deem necessary in the running of the party.
'The title Wike assumed is not only alien to the Constitution of the PDP but smacks of desperation on the part of Wike and his co-travelers.
However, it is not surprising that the like of Felix Obuah and his co-traveler will tell lies in broad daylight. Both men are acting out a script and Rivers people will not be surprised to wake up one morning to hear that Obuah has hand-picked Wike as the governorship candidate of the PDP,' Ukwuoma-Nwogba added.
While reiterating that Wike's claim is unfounded, Ukwuoma-Nwogba asserted that Wike is not the leader of the PDP in Rivers State and cannot be.
'Even in the absence of the State Governor, the Deputy Governor is there and not Wike.'
'Rather than breeding mischief and heating up the polity,' the spokesman advised, 'Wike should focus on the job the Governor sent him to do in Abuja. At the appropriate time Rivers State people will choose who leads them after the tenure of our Governor Rt. Hon. Chibuike Amaechi.'