Mandela's conditions deteriorates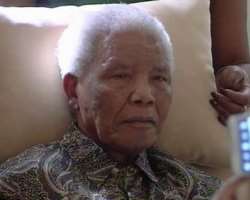 Former South African president and anti-apartheid icon, Nelson Mandela, is now in critical condition, the country's presidency said late Sunday.
President Jacob Zuma said Mr. Mandela's condition had worsened in the past 24 hours, but that he had visited the former president and was satisfied doctors were doing 'everything possible' to get his
condition improve.
'The doctors are doing everything possible to get his condition to improve and are ensuring that Madiba is well-looked after and is comfortable. He is in good hands,' said Mr. Zuma.
Mr. Mandela has been hospitalized for weeks, and is treated for a recurring lung infection.
The South African presidency had in an earlier statement described Mr. Mandela's condition as serious, but stable, saying the former president was is breathing but with some difficulty.
President Zuma and the ruling party, the ANC, have also urged all South African to keep praying for the anti-apartheid icon to ensure a speedy recovery.
On June 13, Mr. Zuma said the anti-apartheid icon was recovering in the hospital while the condition remained serious.
At a gathering for Youth Day last week, in the KwaZulu-Natal province in remembrance of the 1976 Soweto youth uprisings against apartheid, Mr. Zuma said Mr. Mandela's doctors had confirmed that his improvement was sustained.
'Let me at this juncture; invite you all to keep Madiba in our thoughts and prayers. As you are aware, President Nelson Mandela is still in hospital in Pretoria,' Mr. Zuma said.
'We are grateful that he continues to get better. Over the last two days, although he remains serious, his doctors have stated that his improvement has been sustained. He continues to engage with family.'
Mr. Mandela has been in a Pretoria hospital for a week, the fourth time the 94-year-old former president has been admitted to hospital since December.
Mr. Mandela, popularly known by his clan name 'Madiba', has a history of lung problems dating back to his time at the windswept Robben Island prison camp near Cape Town.
He was released from prison in 1990 after 27 years behind bars and was president from 1994 to 1999.
At the end of March and in April this year, he spent nine days in hospital receiving treatment for recurring lung problems.
Earlier in March, he was admitted to a Pretoria hospital for a scheduled check-up and discharged the following day.