THE TRAVAILS OF GOVERNOR ROTIMI AMAECHI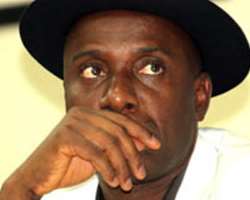 I am not one predisposed to the frivolity of undue display of emotions, but honestly, I can almost weep for the Rivers State Governor, Rt. Hon. Chibuike Rotimi Amaechi, because he is going through trials and tribulations. I will not, however, shed a single teardrop for him because to be honest; a lot of the challenges he is facing, are self inflicted and could have been avoided.
The Governor has been the continued focus of media headlines. Yesterday, (21/16/2013), newspaper reports quoted the Rivers State Commissioner of Police, Mbu Joseph Mbu, as describing the Governor as a "tyrant and dictator." The Commissioner asserted that the attacks on him by the Governor were getting out of hand and that Rt. Hon. Amaechi wanted to cower him and reduce him to a rubber stamp.
Just a few days before this, the national dailies were agog with a warning that the Governor had issued to his Plateau State counterpart, in which Governor Amaechi had warned the Plateau State Governor, Mr. Jonah Jang, to stop impersonating him as the Nigerian Governors' Forum (NGF) chairman, because Governor Jang's action, according to Amaechi, bordered on criminality.
The Nigerian Governor's Forum is in disarray for the first time in its history, because of the direction in which Amaechi has allowed it to drift. The NGF had never since its inception had two factions. Amaechi should just recognize that he failed woefully as the Forum's hitherto Chairman and bow out gracefully, leaving the chairmanship of the Forum for the better man to lead.
Amaechi is in discord with almost all his neighbouring governors. Bayelsa and Akwai-Ibom, are just two examples. He is enemies with almost all his PDP governors and he was recently suspended by his own party. The Peoples Democratic Party's rejection of him should be an indication that he is not conducting his affairs properly.
It is not only governors and his party members that Amaechi, is said to be at variance with, he is also known to be at loggerheads with the First Lady, Dame Patience Jonathan and has refused to attend any of her official engagements in Rivers State where the First Lady is currently undertaking several official and private engagements. Dame Patience has remarked whoever that she has come to Rivers State bearing peace and goodwill. She has emphasized that she is not in the State to fight Governor Amaechi.
Although Mr. Chibuike Amaechi has vowed to mobilize Rivers people for a mass protest on the streets of Port Harcourt, over 7,000 youths under the auspices of the Rivers Peoples Assembly protested recently and called for his resignation.
It is time for someone to give the Governor some home truths. If he does not change the way he is conducting his affairs, he will only alienate more of his countrymen and women. Governor Amaechi must purge himself of the sin of hubris. The governor should refrain from needless discord and animosity, especially antagonism towards his peers and fellow governors. Let him shake off his garb of pride and arrogance and curb his lust for power. If he can do this, he will find out that his travails will not spiral out of control.
Rather, the energy he is dissipating to insult and malign real and imaginary enemies will be better used for the job he was elected to do - governing Rivers State. The Governor as we all know is not a Moslem, but he can take advantage of the upcoming period of Ramadan next month to reflect and caution himself to take the path of peace.
Written By Ibrahim Sali

Disclaimer:

"The views/contents expressed in this article are the sole responsibility of the author(s) and do not necessarily reflect those of The Nigerian Voice. The Nigerian Voice will not be responsible or liable for any inaccurate or incorrect statements contained in this article."
Articles by thewillnigeria.com