Wall Street Set To Gain At Open After Two-Day Selloff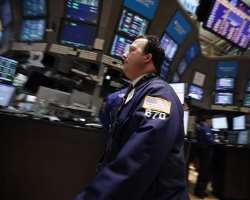 Stocks were set to rise at the open on Friday, though futures were sharply off their session highs, and the week is likely to end in the red after a selloff triggered by concern over the future of central bank stimulus.
Share prices had slumped since Wednesday, when Federal Reserve Chairman Ben Bernanke laid out the Fed's plans to pull back on its $85 billion in monthly asset purchases.
Volatility, which has spiked since May 22 when Bernanke first hinted that the Fed may begin to rein in its stimulus measures, is expected to continue. The CBOE Volatility Index .VIX, a gauge of anxiety on Wall Street, jumped 23 percent on Thursday to 20.49, the first time this year it closed above 20.
"While volatility is going to remain high, the market next week will move to a consolidation phase," said Peter Cardillo, chief market economist at Rockwell Global Capital in New York.
"We'll bounce around 1,575/1,600 (on the S&P 500) as a recovery stage begins to take hold."
Cardillo pointed to the quarterly expiration and settlement of June equity options and futures contracts on Friday as another volatility trigger for the trading session.
About $14 billion is expected to change hands in index rebalancing-related trading towards the session's close, according to Credit Suisse, which could further add to volatility.
S&P 500 futures rose 4 points and were above fair value, a formula that evaluates pricing by taking into account interest rates, dividends and time to expiration on the contract. Dow Jones industrial average futures rose 28 points, and Nasdaq 100 futures added 5 points.
A slight recovery could spare the S&P 500 from posting its worst week this year. Over the past four days, the index has declined 2.37 percent, while the largest weekly decline so far this year is 2.12 percent.
Volume on Thursday also soared, with 9.4 billion shares exchanging hands on the New York Stock Exchange, NYSE MKT and Nasdaq, the highest this year and 50 percent more than the daily average so far in 2013 of 6.38 billion.
Facebook (FB.O) shares rose 2.5 percent to $24.50 in premarket trading. UBS raised its rating on the stock to "buy" from "neutral."
Oracle Corp (ORCL.O) dropped 7.6 percent to $30.70 in premarket trading a day after the tech giant missed expectations for software sales and subscriptions for a second straight quarter.
Tesla Motors (TSLA.O) rose 2.1 percent to $102.75 after the electric car maker unveiled a system to swap battery packs in about 90 seconds in a move to overcome fears about driving range.
S&P Dow Jones Indices said Thursday that News Corp's (NWSA.O) spinoff News Corp (NWSAV.O) will replace Apollo Group (APOL.O) in the S&P 500. The old News Corp, which is changing its name to 21st Century Fox (FOXAV.O), will remain in the S&P 500. The change is effective after the close of trading Friday, June 28.
China's central bank faced down the country's cash-hungry banks on Friday, letting interest rates spike as it increased pressure on banks to curb rampant informal lending and speculative trading. Some worry that its approach could backfire, creating the potential for defaults and gridlock in the money markets of the world's second-largest economy.
REUTERS