Six Armed Boko Haram Militants Captured In Maiduguri Market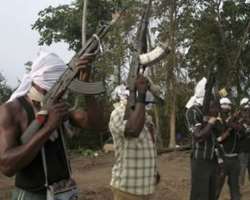 Some courageous traders captured six armed suspected Boko Haram members inside Gamboru Market in Maiduguri, Borno state Capital, Pointblanknews.com gathered.
According to traders close to the scene, the boko haram terrorist were seen entering the market with their guns hidden under their long flowing gown, but for the eagle eyes of some traders the terrorist would have carried out their usual attack.
"A trader alerted us when he saw them and we immediately trailed and rounded them up" Babagana Aji said.
" We caught them with our hands as they attempted to bring out their guns.
After we succeeded in disarming them through the help of some youth group, we later handed them  over to the soldiers" Aji said.
Pointblanknews gathered   that some youth group who are referred to as " Civilian JTF" and have in the past one month captured some Boko Haram and handed then over to the Military.
"This Gamboru market had suffered several attacks; the Boko Haram has burnt it twice and killed several traders', said Sanusi Dantakai, an orange vendor. 'We are tired of the losses we incur at every attack carried out by the Boko Haram. That was why we summoned courage to catch them ".