JUNE 12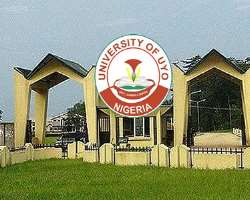 Last Wednesday June 12th, while many across the country were reflecting on the perils and challenges to our young democracy and remembering the efforts of MKO Abiola, the University of Uyo was embroiled it seems in a battle that could also trace its roots to the perils and challenges facing our infant democracy. Whatever the case, we must be careful not to rush to judgement as to who is to blame until the reports of a thorough investigation is available. In the meantime, we must engage our thoughts and efforts in ensuring that such an incident does not occur again in the future. None of us can deny the complexity of the challenge we face as a people and as a nation today. In this moment of tragic disorder, a special burden rest on the educated men and women of our State and country to reject the temptations of violence and prejudice and reaffirm the values of freedom and law on which our society depends.
Educated citizens have the obligation to uphold and respect the Law. Law is the adhesive force of the cement that holds society together. It is the educated man that must help us create order out of quaeous, coherence in place of anarchy. He knows that his fellow man is entitled to be regarded with decency and treated with dignity. Any educated citizen who seeks to subvert the law, to suppress another Man's freedom or to subject other human beings to acts that are less than human degrades his inheritance, ignores his learning, and betrays his obligation. We must respect the rule of Law and not the rule of force.
Today we live in an age of movement and change. A University has a special obligation to hold fast to the best and to move fast to the future - our youths. Liberty of learning must be the touchstone of our University's, but liberty without learning is always in peril and learning without liberty is also in vain. While we are all entitled (students and faculty alike) to equal opportunity and liberty under the Law, our nation was not founded solely on the precepts of citizens rights. Equally important but often overlooked is the citizens responsibility. For our privileges can be no greater than our responsibilities. The protection of rights under the Law can endure no longer than the performance of our responsibilities under the Law. Each can be neglected only at the peril of the other.
I speak to you today therefore, not of your rights as students or faculty but of your responsibility as future leaders of Akwa Ibom and Nigeria, your responsibility as educated citizens, students and faculty of this great institution. It is said that everyman who walks out of a University must be a Man of his country and a Man of his time. There was a need to uphold the law on June 12th 2013, not to ignore or abuse it.
There are few earthly things more beautiful than a University. It is a place where those who hate ignorance strive to know and learn, and where those who pursue the truth may strive to seek. No problem of human destiny is beyond human beings.
Therefore, in this time of tension at the University of Uyo it is important to seek ways to restore Unity and peace. I have no doubt that the University of Uyo will rise from the ashes of June 12th 2013 to become a stronger institution, still uphold learning, encourage public service and teach respect for the Law. It will neither turn its back on proven wisdom or turn its face from new born challenges; it will still pass on to the youths of Akwa Ibom and Nigeria the full meaning of their rights and responsibility, and it will seek to defend the frontiers of freedom and pursue the path of peace in its dealings with the student body.
Finally let us never forget the students that lost their lives. A memorial of some sort will remain a constant reminder of the crisis of June 12 2013 and the need to avoid a re-occurrence.
Written By Larry Esin

Disclaimer:

"The views/contents expressed in this article are the sole responsibility of the author(s) and do not necessarily reflect those of The Nigerian Voice. The Nigerian Voice will not be responsible or liable for any inaccurate or incorrect statements contained in this article."
Articles by thewillnigeria.com