PDP: Olisa Metuh Resigns As National Publicity Secretary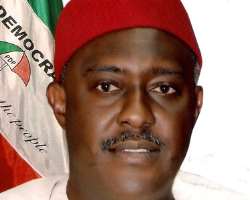 …More NWC members expected to throw in the towel

SAN FRANCISCO, June 19, (THEWILL) – The National Publicity Secretary of the ruling Peoples Democratic Party (PDP), Chief Olisa Metuh, on Wednesday, resigned his appointment.

His resignation, which takes effect from Thursday, June 20, came ahead of the party's National Executive Committee (NEC) meeting which holds on Thursday.

Metuh's decision to throw in the towel may not be unconnected with the directive that officers whose election did not meet due process should resign their positions.

The Independent National Electoral Commission (INEC) had noted that some national officers were occupying positions without due process as it warned that the proper process must be followed.

Announcing his resignation, Metuh said: "I want to inform you that I am resigning as the National Publicity Secretary with effect from Thursday, 20th June 2013.
"This resignation is in the overall interest of the party and is being done to put a final stop to the controversies generated by the INEC report on the mode of my election as National Publicity Secretary.
"I have served this party as a member of National Executive Committee for over 10 years and therefore my interest is to ensure that this party stabilises and progress. I have written and submitted my letter; I am resigning with effect from Thursday 20th June 2013."
Metuh however stated that though he was resigning, the National Chairman of the party, Alhaji Bamanga Tukur, remains as chairman of the party.

According to Metuh, "There is no controversy about his election, he is not in court. The INEC report did not say his election was flawed. He complied with the Constitution of the party and the guideline of the 2012 convention."
Metuh also noted that the PDP is the only party that can safeguard democracy in Nigeria, saying "in whatever capacity I may find myself, I will always vote and support the PDP."
As the Thursday deadline given for the National Working Committee (NWC) members not properly elected to resign, indications emerged Wednesday night that about two-third of the NWC members will be throwing in the towel as well. They include, the Deputy National Chairman, Sam Sam Jaja; National Organising Secretary, Abubakar Mustapha; his deputy, Okechukwu Nnadozie; National Publicity Secretary(deputy) Binta Goje; National Youth Leader, Garba Chiza; his deputy, Dennis Alonge Niyi; Deputy National Auditor, Umar Ibrahim;National Women Leader, Kema Chikwe; her deputy, Hannatu Ulam; Deputy National Treasurer, Claudus Inengas ; and the National Legal Adviser, Victor Kwon.