MDGs: We Won't Rest On Our Oars, Jonathan Assures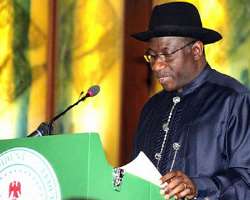 PRESIDENT GOODLUCK JONATHAN
SAN FRANCISCO, June 19, (THEWILL) – President Goodluck Jonathan, Wednesday, assured that Nigeria would strive and work hard to attain the remaining Millennium Development Goals (MDGs), saying his administration would not rest on its oars after winning the first goal of the MDG - eradication of extreme poverty and hunger.
Speaking after receiving an award presented by the Food Agricultural Organisation (FAO) in recognition of his administration's effort at reducing the number of people who are suffering from chronic hunger, Jonathan said more needed to be done to achieve the remaining five MDGs
"We are yet to reach where we want to go, but surely, we will get there. I have to thank Akinwumi (the minister of agriculture) and his team that worked tirelessly to get us to where we are. Let me use this unique opportunity to tell Nigerians and the rest of the world that we appreciate this recognition," Jonathan said.
The Minister of Agriculture, Dr. Akinwunmi Adesina, who presented the award to Jonathan on behalf of FAO, said: "Even as we have made much progress, there are still more challenges along our way.
"Mr. President, you are feeding Nigeria and the international community recognises your efforts and leadership in feeding Nigeria .
"The FAO of the UN have just given a special recognition to Nigeria for the achievement in reducing the number of people suffering from chronic hunger and for making notable progress in guaranteeing food security for our citizens."
Adewunmi explained that Nigeria got the award because "the number of Nigerians suffering from hunger reduced from 19.31 million in 1990 and 1992 to 13.38 in 2010 and 2012 ."
He maintained that there was a decline in the prevalence of under-nourishment in the country from 19.3 per cent in 1990/1991 to 8.5 per cent by 2010/2012.
"This is below the MDG target of 9.7 per cent that was set for 2015," he explained.
Akinwunmi also disclosed that Nigeria has added nine million metric tonnes of food to its domestic food supply, saying there is an on-going effort to start feeding school children in order to empower farmers by "buying foods from them to create market for them and also help their kids to stay in school."
It would be recalled that the Federal Government received the achievement award from FAO in Rome last week as it joined the ranks of Algeria, Angola, Bangladesh, Benin, Brazil, Cambodia, Cameroon, Chile, Dominican Republic, Fiji, Honduras, Indonesia, Jordan, Malawi, Maldives, Niger, Panama, Togo and Uruguay, as the countries that have achieved only the MDG 1 .
FAO also identified Armenia, Azerbaijan, Cuba, Djibouti, Georgia, Ghana, Guyana, Kuwait, Kyrgyzstan, Nicaragua, Peru, Saint Vincent and the Grenadines, Samoa, Sao Tome and Principe, Thailand, Turkmenistan, Venezuela (Bolivarian Republic of) and Viet Nam, as the countries that have achieved both MDG 1 and the World Food Summit (WFS) goal.
The first goal of the MDG, which Nigeria met, entails cutting by half between 1990 and 2015, the proportion of people living on less than $1.25 a day, attaining the provision of decent employment for women, men, and young people as well as reducing by half, between 1990 and 2015, the proportion of people who suffer from hunger.
The remaining five, which President Jonathan said Nigeria must attain, include achieving universal primary education, promoting gender equality and empowering women, reducing child mortality rates, improving maternal health, combating HIV/AIDS, malaria, and other diseases, ensuring environmental sustainability, and developing a global partnership for development.