UBA Buoys Up The Ruby Account For Women With Enhanced Benefits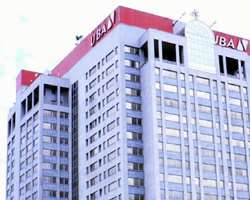 In line with concerted efforts aimed at better serving its customers, United Bank for Africa (UBA) Plc has upgraded the features of Ruby Premium Current Account for the discerning woman. Ruby is a financial product, targeted at womenfolk and is specially designed for professional and Women in employment, private Businesses and Public Offices who place a premium on convenience banking.
The enhanced features and benefits of this premium product were unveiled by the Bank in Lagos on Tuesday at a colourful ceremony attended by notable women personalities from diverse sectors of the Nigerian economy.
Speaking at the presentation of the enhanced Ruby Account at UBA House in Lagos on Tuesday, Deputy Managing Director, UBA Plc, Mr. Kennedy Uzoka affirmed that the Ruby account was specially created for the discerning women who, the bank believes, deserve the very best in life. 'This product is indeed special and dear to our hearts. We are presenting the enhanced 'Ruby' to the womenfolk in recognition of their virtues and importance in the society as home makers, professionals and businesswomen' he stated.
The same sentiments were echoed by Head, Retail Banking, UBA Plc, Ms. Olumide Osunyomi who reeled out special features of Ruby to include, Zero COT and highly attractive interest rates; customized debit cards and cheque book; unlimited number of withdrawals or deposits and the use as payroll account.
The other benefits of Ruby, according to Osunyomi, are; up to 15% discount on services offered by Ruby partner outlets nationwide; free enrollment on all UBA e-Banking products and services; access to consumer credit facilities, customized Ruby VISA Gold debit card and a personalized premium gift item.
In addition to these, signing on a ruby account automatically gives account holders access to quite a number of partners such as UBA Metropolitan Life, Fine & Country, Avis Car Rental, Qatar Airways and Ruff & Tumble. Others include AA Rescue Services, Bulwark, Laterna Ventures, Café Vanessa, Zaron, Megacare and Clear Essence.
These partner institutions; were all offering various benefits for the Ruby customers.  Specifically UBA Metropolitan Life is offering 10% discounts on Travel Insurance, Group personal Accident Insurance and Funeral Cover, for qualified Ruby account holders from June till end of the year. On the other hand, Fine & Country is offering 5 percent discount on professional fees and a number of other opportunities to reap bountiful returns on real estate investments in choice areas within and outside Nigeria.
Whilst urging all women to sign on the Ruby Account, a Director of the Bank and Special Guest of Honour, Mrs. Onari Duke called on women to brace up to the challenge of expanding their competences and taking advantage of the 'Ruby Account' to improve on their entrepreneurial drive to excel.
'This product has been designed to enhance our role in the family in particular and economy, UBA is blazing the trail by promoting quality product offering and service excellence. I enjoin all discerning women to signing up to Ruby Account,' she said