Laide Bakare Defends Self…Lies About Child Paternity [Photo]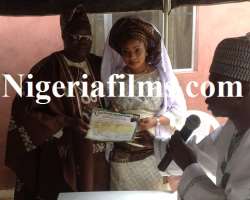 When the whole crisis surrounding Laide cropped up, a lot of reactions followed it but just recently, through her publicist, she sent a word across the media that as at the time she was wedded to her husband, Tunde Oriowo, the polygamist, popularly called ATM, she was carrying his baby.
But, did Laide explained to people what happened the last time she went to her ex hubby to take her baby from her. People in the know said, the ex. never knew she was carrying anyone's baby when he celebrated her birthday for her. What a shame!
Well, the baby is out already, the only thing that can prove her innocence is DNA to ascertain the paternity of the new born baby. Even at that, she was said to have slept with her ex with another man's pregnancy.
This is what her publicist sent to us "This is just to disabuse the minds of skeptics, as a first step.
Nollywood actress, Laide Bakare, was duly married to businessman, Mr. Tunde Oriowo a.k.a. ATM.
These are pictures from the Nikkah ceremony that was held quietly in Lagos.
Also, as the pictures speak, Laide Bakare was carrying Mr. Oriowo s baby at the time.
For the nine months that she was pregnant, during which the Muslim wedding was held, Laide was under the watch and care of no other man but Mr. Oriowo who played well his roles as husband and father.
Reactions to other pettiness would come up in due course."
Dear readers, what do you think of this?
© 2013 Nollywoodgists.com
Click the link below to go to...
The Good The Bad And The Ugly Life Of Laide Bakare
Pressure Mounts On Hubby To Dump Ini Edo *No, My Marriage Is Still Intact
My Daughters Can Also Be 'Crudity Stars' Like Me--Afrocandy
Photos From Iyanya's kukere Concert In London
NEWS FLASH: Plane Crash-Landed On The Road In Igando, Lagos [Pictures]
"I Never Hid My Child's Paternity" Omawumi Talks At Last
My Husband Is The Best In The Whole World–Angela Okorie