22 Killed in A Fresh Boko Haram Attack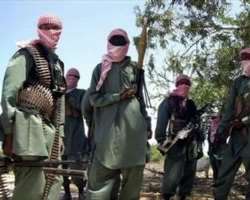 At least  13 persons were on Monday afternoon killed by  suspected Boko Haram members  near Alau river in Maiduguri the Borno State.
The deceased  were said to be  fishermen and local tea vendor  killed by Boko Haram members who were said to be on a revenge mission against some group of youth who have for some time now capture some Boko Haram members and hand them over to security operatives.
Similarly , nine students seating for the ongoing National Examination Council (NECO) , were shot dead by another set of  suspected Boko Haram terrorist  in a different location within the state capital while other student escaped with injury  .
According to eyewitness, the gunmen  stormed Ansarudin Private Primary and Secondary School in Jajeri area  and began shooting sporadically shortly after the commencement of examination.
Parents of the deceased who are resident in Federal and state Lowcost of the Metropolis expressed shock over the killer the killing of their children and can of the federal and state government to treat  security of lives and properties more seriously.
Sources  at the state specialist Hospital confirmed  that over 20  fresh gun shot  corpse were brought to the hospital this morning.
" We have not received this large number of civilians for a long time now"
the hospital source  said.
But worried by the continued capture of their member and subsequent handing over to the Military, the Boko Haram sect said in and e-mail that " a full blown war have been declare against Borno and Yobe youth"
Abu Zinnira, the spokesman of the Boko Haram said they will launch manhunt of their hunters (youth) who goes by the name "Civilian JTF".
According to him, "We have established that youth in Borno and Yobe States are now against our course. They have connived with security operatives and are actively supporting the government of Nigeria in its war against us. We have also resolved to fight back, " Abu Zinnira said.
But in swift reaction, some of the youths who promised to fight the Boko Haram insurgents in Maiduguri said they will not be deterred from carrying out their mission and there will be no going back.
According its Chairman Abubakar Malum who spoke in Maiduguri  "What the Boko Haram said is an empty threat because the time of war of terror, war of attrition and killing of innocent people with impunity is over. We, the youth have resolved to take our destiny in our hands and will continue hunting the insurgents," he said.