How Forensic Examination Exposed Oil Thieves - Witness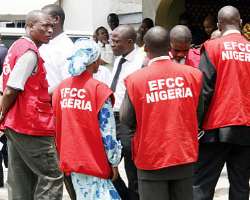 SAN FRANCISCO, June 18, (THEWILL) – A forensic analyst with the Economic and Financial Crimes Commission, EFCC, Muktar Bello, who is also a witness in the ongoing trial of Joseph Amaechi and 13 others, over their alleged illegal oil bunkering today, Tuesday told a Federal High Court, Abuja presided over by Justice Evoh Stephen Chukwu, how forensic examination of the mobile phones of the accused persons established their complicity in the crime.
Led in evidence by counsel to EFCC, Austin Emumejakpor, Muktar told the court that he conducted the examination by using a computer running on Microsoft operating system with a cellebrite device.
The device, according to Muktar, is a forensic extraction device commonly used by law enforcement agencies to harvest information from mobile devices. He further explained that the device has an in-built mechanism that protects the integrity of the data extracted which is automatically transferred to a computer, an EFCC statement said.
However, the defence counsel, Rotimi Ojo, contested the admissibility of the document which the prosecution sought to tender as exhibit on the grounds that the document is not the original copy. But Emumejakpor urged the court to discountenance the objection, as the document had been duly certified in line with the provisions of the law.
In his ruling, Justice Chukwu said a certified true copy of any document is admissible in evidence and accordingly admitted same as exhibit. Further hearing of the case has been adjourned to June 24, 2013.
It will be recalled that the accused persons were arrested by officers of the 177 Guards Battalion of the Nigerian Army at Toto Military checkpoint, Nasarawa State with 14 trailer load of suspected crude oil and handed over to the EFCC for further investigation and prosecution. The accused are Joseph Amaechi, Israel Friday, Ubadia Francis, Abayomi Adebisi, Abdullahi Idris, Samuel Job, Onah Peter Ode, Sabo Tasha Hassan, Abdullahi Moh'd, Abubakar Abdulkadir, Ehiogu Paul, Ibrahim Saidu, Garba Mohammed and Bartholomew Onyema.