Putin Locks Horns With West Over Syria At G8 Summit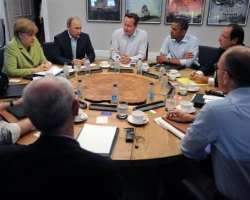 Russian President Vladimir Putin clashed with other world leaders over the civil war in Syria at a tense G8 summit, blocking any mention of the fate of Syrian leader Bashar al-Assad from a final communique to be issued on Tuesday.
Isolated at the G8, Putin resisted attempts by other world leaders including U.S. President Barack Obama to get him to agree to anything that would imply Assad should step down or that Russia should tone down its support for Assad.
Western powers tried to hash out a statement with teeth on Syria that all G8 leaders could agree on, though sources indicated that Putin resisted. The G8 is likely to issue a statement but it was unclear what it would contain.
"You're close to a seven to one position on Syria and clearly Putin doesn't hold back with his views," a source familiar with the talks said.
Russian Deputy Foreign Minister Sergei Ryabkov, speaking on the summit sidelines, said Russia had refused to accept any mention of Assad's fate in the communique.
"This would be not just unacceptable for the Russian side, but we are convinced that it would be utterly wrong, harmful and would completely upset the political balance," Ryabkov said.
Russia has been Assad's most powerful supporter as his force struggle to crush an uprising in which 93,000 people have been killed since March 2011. He can also count on backing from Iran.
The United States, Turkey, and European and Gulf Arab states support the rebels, who have lost ground to Assad's troops in recent weeks.
Russia and the United States agree the warring sides should be brought together to discuss Syria's future at a peace conference as soon as July. But its timing was under question and one source said it would be delayed until August.
Obama and his allies want Assad to cede power while Putin, whose rhetoric has become increasingly anti-Western since his re-election last year, believes that would be disastrous at a time when there is no clear transition plan.
Putin's isolation at the G8 may damage perceptions of Russia but for Putin himself it would be a chance to portray himself as a strongman who can stand up to a bullying West - an image certain to please the domestic audience.
He appeared tense on the first day and has faced a barrage of criticism over his Syria stance. Canada's Stephen Harper accused him of supporting "thugs" in Damascus. His meeting with Obama was frosty and both men looked uncomfortable.
Obama could offer Putin several incentives to change his mind but it was unclear what exactly was on the table as talks continued behind closed doors at the G8 venue.
COMPROMISE STILL POSSIBLE?
One area of compromise could be for the West to ease back on its proposals to arm the Syrian rebels or push for no-fly zones, which Russia opposes.
Syria is one of Russia's last bastions of support in the Middle East and the Russian navy has a vital base at the Mediterranean port of Tartus.
However, Russian Foreign Minister Sergei Lavrov said on Tuesday the Syrian opposition must not set preconditions for attending the proposed peace conference, suggesting sticking points remained.
Renewed diplomatic tension over Syria stems from last week's decision by the United States to step up military aid to the rebels, including automatic weapons, light mortars and rocket-propelled grenades.
British Prime Minister David Cameron, who is chairing the summit, will also move the conversation on to taxation and how global powers can help close international loopholes.
Cameron has been stung by revelations that the likes of Google and Starbucks have sharply cut their corporate tax bills in Britain using legal loopholes.
Last week he sought to turn up the pressure on other rich economies by pressing Britain's overseas tax havens into a transparency deal and announcing new disclosure rules for British firms.
REUTERS