NGF: I Am Not An Impersonator- Jang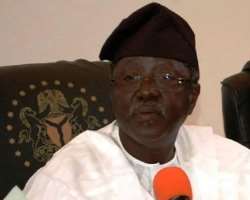 Factional Chairman of the Nigeria Governors Forum (NGF) and Governor of Plateau State, Jonah Jang on Monday reiterated that he is chairman of the forum and not an impostor as alleged by his rival chairman, Chibuike Amaechi of Rivers State.
Jang stated this while breifing the press after an NGF meeting in Abuja.
Jang had called for a meeting of the 36 governors to address the recent walk out by finance commissioners from the states on a meeting with the minister of state for finance signalling their objection to the way the federal government was managing the Federation Account Allocation Committee.
However, Amaechi, in the wake of Jang's summon of the meeting, told his colleagues to ignore the meeting and warned Jang to stop impersonating the NGF chairman.
But briefing newsmen after their meeting Jang described the meeting which had 16 governors in attendance as a success since it met a quorum required for the meeting.
He declined to comment on the outcome of their meeting adding that they are heading to meet the President.
" We just had a meeting to discussed the impact of FAAC. We cannot tell what we discussed inside because we have to meet with Mr. President first."
Reacting to the turnout of the governors to the meeting Jang said "some governors travelled. You cannot stop the governors because you are going to have NGF meeting. Some have travelled and some have offered apology for their inability to attend.
"Our quorum is 12, so anytime we are 12 we can hold meetings. It has been the situation in the past."
Reacting to allegation that he was impersonating the Chairman of NGF, Jang quipped "what is the meaning of impersonation, have I said I am governor of Rivers State?"
Governors present at Jang's meeting include; Plateau, Ondo, Taraba, Ebonyi, kogi, Abia, Akwa ibom, Delta, Bauchi, Bayelsa, Anambra, Gombe, Enugu, Cross River, katsina and the Deputy Governor of Benue State.
The All Progressive Congress Governors refused to show up at the meeting.