Anti-Terror War: Defence Headquarters Warns Against Witch-Hunting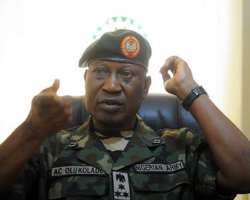 Nigeria's Defence Headquarters as warned against witch-hunting even as it welcomed the assistance of civilians in mopping up terrorists in three states in the country's North-East currently under emergency rule.
'The Defence Headquarters has noted with satisfaction the reports and activities of some individuals particularly youths organised into vigilante groups to join the efforts to fish out the terrorists within their communities.
These gestures are commendable as it underscores the desired positive civil-military collaboration necessary for the success of the ongoing internal security operation,' said Director of Defence Information, Brigadier General Chris Olukolade.
However, according to Olukolade in a statement made available to journalists, 'while the Defence Headquarters acknowledges this contribution especially where it is aimed at complementing the effort of security agents in restoring law and order, the need for caution in order to ensure that the process is not used to settle scores or witch-hunt perceived enemies has been conveyed to units in the field. The public is hereby reassured that the right of every citizen for fair hearing is not jettisoned in the name of mopping up the terrorists elements in the communities.'
According to the Defence spokesman, 'Due processes have accordingly been emplaced as part of the operations, as a way of ensuring that the activities of the youths are not hijacked by those with ulterior motives or sinister intentions.
All the suspects apprehended through this process are being processed to determine the level of involvement in terrorists activities. Meanwhile, every effort has been put in place to protect them from any harm while in custody where necessary.'