Corruption: CJN extends war to judiciary staff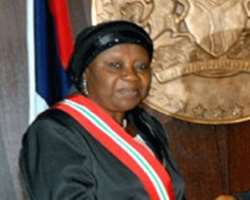 The Chief Justice of Nigeria (CJN), Justice Aloma Mukhtar, has said that her fight against corruption in the judiciary will be thorough going.
She said that it will not stop at the judicial officers alone but also against any staff of the judiciary who engages in unwholesome conduct.
Justice Mukhtar spoke in Abuja on Monday at the opening ceremony of the 2013 national workshop for judiciary librarians organized by the National Judicial Institute (NJI).She was represented by a Supreme Court justice, Olu Ariwoola.
According to the  CJN, any honest judicial staff that works hard will be rewarded, while the deviant, fraudulent and indolent ones may become irrelevant and be shown the way out, in Nigeria's drive for a virile judicial system.
'As judicial staff, you are bound by the code of conducts for court employees. Therefore, if any of you compromises himself or contravenes the code of conduct, he or she will face the full consequences of his or her action', CJN said.
The CJN also decried lack of funding for court libraries stressing that such libraries must be richly stocked with the latest books, law reports, journals, monographs, and must ultimately, be ICT compliant.
'Unfortunately, the libraries we have today, especially at the state level are poorly funded, stocked and staffed. As a result of poor funding, both the quality and quantity of their acquisitions are not current. This ought not to be so, when courts of most other countries have gone steps further to e-libraries,' she said.
Earlier in his address of welcome, the administrator of the NJI,  Justice Umaru Eri stated that for a library to perform the function as a reservoir for research and creativity, it must as of essence be manned by thoroughly trained personnel in the field of library science or information science.