UNIUYO: Campus Safety Committee Chair Flays Extent Of Damage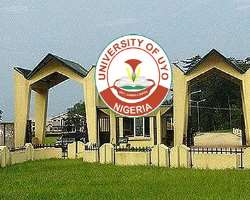 SAN FRANCISCO, June 17, (THEWILL) – The extent of damage to the property of the University of Uyo, Akwa Ibom State, as well as the death of some of its students during last week's protest by the students of the university have been condemned.
The chairman of the Inter-ministerial Committee on Campus Safety, Prof. Bisi Balogun, who made the condemnation, said sabotage could not be ruled out in the carnage.

Balogun, who spoke with newsmen after an assessment tour of the university, said he couldn't imagine students embarking on such destruction and killing because of issues that could have been resolved amicably.
It would be recalled that the V.C's office, the DVC's office, registrar's office and the exams and records office, university portal and the Directorate of Account Affairs were destroyed during the protest while about 20 vehicles were vandalised.

"Students unions in our Nigerians universities have imbibed the culture of dialogue. If there is nothing behind these dastardly acts, it means something has to be done, because one cannot really understand why they have gone to this extent of destroying property because of just N100.

''The police are still investigating, the university has set its own committee to investigate the matter but this certainly is beyond the issue of N100, '' Balogun said.

The professor, who said he had gone through the minutes of the meeting where the Student Union Government and the university authority agreed on a private transporter to execute the transport on behalf of the university, noted that for the students to turn around to embark on such a wanton destruction goes beyond sound reasoning. He said the death of the students was what prompted his team to come.

The vice chancellor of the university, Prof. Comfort Ekpo, in her remarks, said the crisis was triggered by the increase in the transport regime by N100

Ekpo said before the increase was effected the student union government was invited for a dialogue with the university authority where they were intimated on the need for a private transporter to handle the transportation on behalf of the university.

She said when the student kicked against the increase she pleaded with them to allow increase to stand for just that fateful date while the university go back to the transporter to renegotiate with them, but the students, she said, could not wait.