11 Killed, 9 Injured in Damaturu Fresh Attack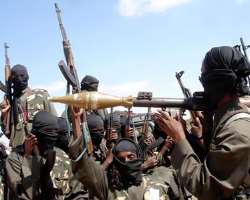 At least  11 persons were  killed when Boko Haram members attacked secondary school and military check point Sunday night in Damaturu, Yobe State.
Pointblanknews.com gathered that those killed include seven students , two Teachers and two suspected Boko Haram members.
Six other  students and three soldiers who were critically injured are receiving treatments at the General Hospital Damaturu.
Some students;Goni Abubakar and Mohammed Ya'u who survived the incident revealed  that suspected insurgents stormed their hostels few minutes after 9PM Sunday night  and started shooting sporadically as they ran out through the windows and doors of the school.
The insurgents according to the students  were more that 10  in numbers.
They compelled some of the students to direct them to teachers' quarters after which they were also killed.
The JTF had also in a statement  confirmed that eleven people were killed in separate attacks as suspected members of the Boko Haram sect attack the Government Secondary School Damaturu and a military check point also in Damaturu the state.
Spokesman of the JTF in Yobe state lieutenant Eli Lazarus in a statement today said" two teachers and two insurgents were killed during the separate attack while seven innocent students lost their lives during the attack.
"Apart from the eleven killed; three soldiers were critically injured" in the clash that lasted for over five hours.
Lazarus reveal that  three of the suspected Boko Haram members were arrested and are presently in the custody of JTF.
The Medical officer of the Damaturu specialists Hospital Dr. Salem M Umar confirmed that eleven corpses were brought to the hospital and gives the breakdown as seven students of the GSS Damaturu, two teachers of the school and  two members of the suspected Boko Haram members.
According Dr. Umar " six students sustained various degrees of injuries and are currently receiving treatment at the Damaturu specialists'
hospital".