JTF Accused Of Actively Involving In Oil Bunkering At Oloma, Bonny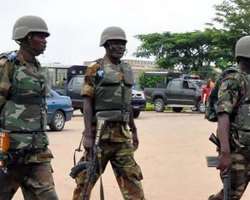 Efforts geared towards combating and eradicating oil theft in the Niger Delta region may continue to hit the brick wall as the Joint Military Task Force (JTF) posted to Oloma community in, Bonny local government area of Rivers state has been accused of active involvement in pipeline vandalism for the purpose of illegal bunkering and crude business in the area.
Some leaders of Oloma community who craved anonymity alleged that the Joint Military Task Force, JTF has constantly been part of the incessant illegal bunkering activities around Well 11 and Well 2 in the area, They accused the JTF of colluding with some persons in the area to extract and sell stolen crude to large vessels under the supervision of security personnel deployed to the area.
Similarly fishermen are crying foul and are making effort to send out SOS messages to the relevant authorities for intervention. According to them, the bunkering activities are the reasons behind the catastrophic pollution of the surrounding waters which make it difficult for fishing to thrive in the area.
Regrettably the activities claimed two lives recently when a fire outbreak was witnessed as a result of this bunkering activities carried out with impunity around well two area.
Alali Pepple the Chief Security officer of Okolo Lodge in well two (2) is pleading that JTF should help put  a stop to the bunkering menace and make their presence felt by way of solid security rather than add to the problem as alleged by community members and fishermen in the area.
Organization of Fishermen, Sea food Dealers and Farmers in Niger Delta (OFSDF/ND) are also joining in the plea to stall the catastrophic effect of pollution as a result of this incessant bunkering. According to a member of the organization, the lives of fishermen whose daily lives depend on fishing are seriously affected adding that the act can no longer be treated with levity.
JTF rising allegations of corrupt practices, complicity in cases of illegal oil bunkering and crude oil theft in the Niger delta is assuming a rather disturbing level in the region.