PDP Cancels Suspension Of Sokoto Governor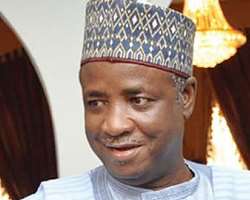 The Peoples Democratic Party (PDP) on Monday rescinded its decision suspending the Sokoto State governor, Aliyu Wamakko.
The Chairman of the Peoples Democratic Part (PDP) Alhaji Bamanga Tukur at a news conference called at his Legacy House office today announced the decision of the National Working Committee, NWC, of the party to rescind the suspension of the governor of Sokoto state.
The decision to withdraw the suspension slammed on Mr. Wamakko followed a meeting between the Presidential Committee on the PDP Crisis set up by the party and the Presidency. It was also believed that appeals made to the party by the Chairman of the PDP Governors Forum, Chief Godswill Akapbio might have softened the minds of the party.
Mr. Wamakko was last week suspended from the PDP for alleged anti-party activities and disrespecting the party's National Chairman, Bamanga Tukur.
The governor's suspension was announced while he was on a trip abroad.
It would be recalled that the PDP suspended Governor Wamakko after he had allegedly shown disrespect to the office of the party Chairman by refusing to respond to a query issued to him.