Yar'Adua returns but Nigeria deputy stays in charge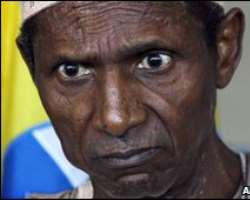 President Umaru Yar'Adua was out of Nigeria for three months
Nigeria's acting leader will run state affairs while President Umaru Yar'Adua recovers after three months' medical treatment abroad, the presidency says.
The 58-year-old's surprise return from Saudi Arabia comes two weeks after Vice-President Goodluck Jonathan took over, amid fears of a power vacuum.
Mr Yar'Adua's condition is unknown - he has not been seen in public and it is unclear when he could resume office.
His plane from Jeddah was met at Abuja by an ambulance in the early hours.
"President Yar'Adua wishes to reassure all Nigerians that on account of their unceasing prayers and by the special grace of God, his health has greatly improved," the president's spokesman, Olusegun Adeniyi, said in a statement.
YAR'ADUA ILLNESS TIMELINE
23 Nov 2009: Goes to hospital in Saudi Arabia
26 Nov: Doctors say he has pericarditis, a heart problem
23 Dec: First court case filed urging him to step down
5 Jan 2010: Two more court cases filed, rights group wants president declared "missing"
12 Jan: President gives telephone interview from Saudi Arabia
27 Jan: Cabinet declares president fit
29 Jan: Court says no need for formal transfer of power
9 Feb: Vice-President Goodluck Jonathan made acting president
24 Feb: Yar'Adua returns
"However, while the president completes his recuperation, Vice-President Jonathan will continue to oversee the affairs of state," it added.

Acting President Jonathan postponed a weekly cabinet meeting on Wednesday, telling ministers he would hold a special briefing later.

The BBC's Caroline Duffield in Abuja says that in theory Mr Yar'Adua is able to take up the reins of power once more by writing a letter to the National Assembly and telling it he has returned.

However, the public statement by his spokesman may count as his having informed parliament of his return and so having reassumed power, our correspondent says - a question lawyers are likely to be considering.

She says the language of the presidency's statement - which refers to Mr Jonathan as vice-president rather than acting president - could be significant.

Very little is still known about Mr Yar'Adua's health, our correspondent adds.

Among the convoy that met him at the airport was an ambulance specially fitted out with intensive care facilities, she says, and no-one is yet reported to have seen or spoken to him, so there is still intense secrecy.

What Nigerians really want is to see the president on video or in photographs so they can come to their own conclusion about his health, she says.

ANALYSIS ANALYSIS

Caroline Duffield, BBC News, Abuja
For President Yar'Adua's political future, it is critical the people do see him, and soon.
He and his circle have suffered political damage and a massive loss of trust, within the country, within parliament, and within their own party.
In his absence, many senior cabinet ministers - including the information minister and the foreign minister - were locked out of decision-making.
It created an atmosphere in which people were uncertain whether the president was even alive.
Mr Yar'Adua's allies will want executive powers transferred back to him, but there are cabinet splits.
Acting President Goodluck Jonathan's supporters have been manoeuvring to try to formalise his position.
The prize - control of Nigeria's oil wealth - is immense.
President Yar'Adua has not been seen in public since flying to Jeddah last November to be treated for pericarditis, an inflammation of the membrane protecting the heart.

Analysts say there has been considerable jostling for power behind the scenes as politicians look ahead to elections due by April next year.

In Mr Yar'Adua's absence, acting President Jonathan has been reshuffling ministers, pledging to tackle power shortages and forging ahead with an amnesty for militants in the oil-rich Niger Delta.

The amnesty was seen as Mr Yar'Adua's major achievement since coming to power in 2007, but it had been jeopardised by his absence.

Sonala Olumhense, a columnist with Nigeria's Guardian newspaper, told the BBC's Network Africa programme he believed Mr Yar'Adua would be anxious to return to work, even if only semi-recovered.

"There seems to be on his part or on the part of the people around him the consciousness that power is slipping away from them and they want it back," he said.

The US welcomed news of the president's return but said recent reports suggested his health remained fragile and that he might not be able to fulfil the demands of his office.

"We hope that President Yar'Adua's return to Nigeria is not an effort by his senior advisers to upset Nigeria's stability and create renewed uncertainty in the democratic process," US Assistant Secretary of State Johnnie Carson said in a statement.