UPDATED: Yar'Adua Back In Abuja, Driven Off In White Ambulance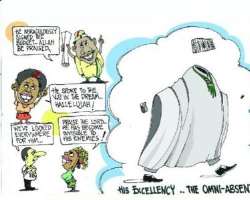 San Francisco Feb 23, (THEWILL) – Nigerian ailing President Umaru Yar'Adua, 58, in the wee hours of Wednesday returned to Abuja. He arrived amidst tight security at about 1.40 a.m. WAT in an air ambulance owned by Saudi King Abdullah.
A white Ford E-250 ambulance was spotted leaving the airport in a convoy escorted with tight security.
Abuja has been agog with rumours of the president's arrival for several hours. Last night, Aso Rock sources said a truck with medical delivery was allowed into the presidential wing of the villa.
Reuters quoted Nigerian government sources and a Saudi airport official as source for the report.
"The president left at 10.22 p.m. (1922 GMT) alone in a plane and another plane carried Nigerian government envoys," an official at the Jeddah airport said.
President Yar'Adua is known to suffer from acute kidney and liver condition. He was last seen in public on November 23, 2009 and was admitted at the King Faisal hospital in Jeddah, Saudi Arabia until a few hours ago.
The federal government delegation to Saudi Arabia did not see him and were unable to meet with King Abdullah of Saudi Arabia. The team may also have returned to Abuja as at the time of reporting.
Yar'Adua's illness and long absence without transferring power to his deputy, Dr. Goodluck Jonathan heated the polity until a political solution was worked out to allow Jonathan ascend to become Acting President.