Ex-Senator Predicts APC Collapse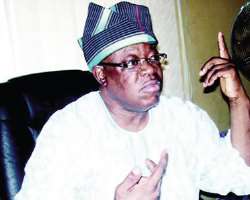 Less than a week after the All Progressives Congress (APC), submitted its documents with the Independent National Electoral Commission (INEC) for registration, a Peoples Democratic Party (PDP) stalwart in Oyo state, Lekan Balogun, has predicted its collapse.
Mr. Balogun, a former senator, dismissed the coming together of opposition parties to form the APC as a 'mere marriage of convenience'.
Speaking with PREMIUM TIMES in Ibadan at the weekend, the Ibadan chief premised his argument on the inability of the APC leaders to submit the names of their national executive with the application as required by the Electoral Act.
'The union will not last. The motive behind the formation of APC is self-serving. The leaders are being driven by self interest and unbridled ambition. So the union is bound to collapse,' he said.
The former legislator noted that similar move was made by the opposition parties in the second republic to dislodge the then ruling National Party of Nigeria (NPN), but failed for similar situation happening to the newly formed APC.
'Why could they not agree on the composition of the leadership structure? That is to tell you that they are not likely to agree on more sensitive issues that will surface as time goes by.'
Until it finally submitted its name for registration last week, APC, an amalgam of major opposition parties in the country, has lurched from one controversy to the other.
Also commenting on the coming together of two former governors of Oyo state, Rashidi Ladoja and Adebayo Alao-Akala, Mr. Balogun said the development signals a beginning of a journey to political irrelevance of the duo.
According to him, since both leaders failed to carry along those who stood by them in their trying periods before taking the decision, they have dug for themselves, a dungeon in politics.
'Alao-Akala failed to consult with those who worked for him during the impeachment that paved way for him to be the governor in his first 11 month, while Ladoja did not deem it fit to seek the opinion of those who stood by him,' he said.
'What they are doing is mere facade. They thought the fact of being former governors in the state is enough to give their coming together any political boost? Let us wait and see. The truth is that the two of them put together cannot equal one in politics.'
Premium Times