DEATH AND BIRTH AS THE DYADIC ROUTES TO ETERNITY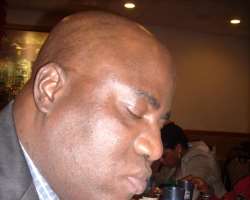 DEATH AND BIRTH AS THE DYADIC ROUTES TO ETERNITY
Death does not follow birth but no revelation knowledge of death is complete without recourse to the beginning which starts at birth. We all came from the spirit realm before birth and that is why God Almighty is our Great Source. One route leads to the earth and the other leads back to the same spiritual realm but on two highways. Some will make it back to God Almighty the Great and Lone Source where we all came from, while others will not make it back but end up with Satan on the other side of the eternal divide. The successful life is not measured by earthly accomplishments, education, fame, money, status, political power etc. but where every human being will end up after this fleetingly ephemeral earthly life is the measure of success. The really successful as far as God Almighty is concerned is a human being who can audaciously declare as Apostle Paul did in 2 Timothy 4: 7 & 8: "I have fought the good fight, I have finished the race, I have kept the faith. Now there is in store for me the crown of righteousness, which the Lord, the righteous Judge, will award to me on that day - and not only to me, but also to all who have longed for his appearing." That is why the reality of real and eternity-viewed life is brought home to every soul by the fact we take nothing, absolutely nothing out of life as one shuts his/her eye and bid the world bye. Our focus this week is on how people die. What does it mean to die? How does death occur? What happens after death? It's difficult to understand how death operates without the Holy Spirit teaching us how birth occurs. Every human being born unto this earth and will ever be born is here for a purpose. God Almighty doesn't create anything or soul without a purpose in mind so if you're reading this piece and the vicissitudes of life seem overwhelming and you think you have lost direction and not making headway, I have good news for you: you're not just a number on earth. The Lord God Almighty had a purpose in mind when He created you and sent you to this earth.
There are seven issues that have already been determined in heaven before any soul-you and I-are sent to this earth for God's purpose. First, is your sex: either you will be a male or female is predetermined. "The angel of the LORD appeared to her and said, "You are sterile and childless, but you are going to conceive and have a son," (Judges 13: 3). The second is your race: black or white and skin color is not yours to determine but God in heaven. "After these things had been done, the leaders came to me and said, "The people of Israel, including the priests and the Levites, have not kept themselves separate from the neighboring peoples with their detestable practices, like those of the Canaanites, Hittites, Perizzites, Jebusites, Ammonites, Moabites, Egyptians and Amorites. They have taken some of their daughters as wives for themselves and their sons, and have mingled the holy race with the peoples around them. And the leaders and officials have led the way in this unfaithfulness," (Ezra 9: 1-2). Although the whole world belongs to God Almighty Who created it, but He had a chosen a particular race as a nation of priests as He said in Exodus 19: 5-6 "…Although the whole earth is mine (but) you will be for me a kingdom of priests and a holy nation.' These are the words you are to speak to the Israelite." The third and fourth issues already determined are; who your parents would be and which part of the world you would be born into as Apostle Paul disclosed thus: "From one man he (God) made every nation of men, that they should inhabit the whole earth; and he determined the times set for them and the exact places where they should live," (Acts 17: 26). So your parents were no accidents, being a Nigerian or an Australian or born in America or Suriname was no accident. The fifth matter about your life already determined is what you are here for; your purpose in the world as God told Jeremiah about his birth, parentage and his purpose "Before I formed you in the womb I knew you, before you were born I set you apart; I appointed you as a prophet to the nations." (Jeremiah 1: 5). Your purpose on earth is your assignment. The people of the world called it "destiny" but there is nothing like destiny in the Bible. Destiny means what it already determined and is unchangeable and you have no input in it but "Godly assignment" or purpose in life means you have the right to determine whether to accomplish it or not so it's no longer destiny. The sixth matter is how you will go about carrying out your assignment on earth and God does that by sending two angels alongside every human being that is born or will ever be born on earth to accompany each and every one of us-you and me-to accomplish our assignment. "The two angels arrived at Sodom in the evening, and Lot was sitting in the gateway of the city. When he saw them, he got up to meet them and bowed down with his face to the ground, (Genesis 19: 1). "…and saw two angels in white, seated where Jesus' body had been, one at the head and the other at the foot," (John 20: 12). As you begin to carry out your assignment on earth, these two angels ask for reinforcement from heaven to help you in the assignment because Satan too will also have matters to settle with you as soon as you are born which we shall come to shortly in this piece. You don't determine your assignment or purpose on earth and in life, you discover it. The seventh and last issue that is already determined in heaven is when you will come back to heaven after you have carried out your assignment. It is this last and seventh issue that is called death in the world. "There is a time for everything, and a season for every activity under heaven: a time to be born and a time to die…" (Ecclesiastes 3: 12). If you passed through all the six steps successfully while on earth, you will know when you will return or die as human beings say just as Apostle Peter was told to return after he had successfully carried out his purpose on earth as he disclosed: "I think it is right to refresh your memory as long as I live in the tent of this body, because I know that I will soon put it aside, as our Lord Jesus Christ has made clear to me," (2 Peter 1: 13: 14). Peter just wrote his obituary and plenty of God's servants in the Bible and on earth knew when they would die, but we don't call it death as people of the world so, but we say when we're going back home.
After all these seven issues have been settled in heaven, your two angels carried your spirit and soul; the angel on the right carries your spirit and the one on the left carries your soul and put both in your mother's womb. God showed David how this is done and the Holy Spirit showed me too. "For you created my inmost being; you knit me together in my mother's womb," (Psalm 139: 13). The "knit me together" in that Psalm 139: 13 refers to your spirit and soul and the third part needed for you to operate is your physical body which requires nine months by God's plan. Meanwhile, Satan and his demons are allowed to set up their own plans during the nine months that you will be in your mother's womb. Not only are those nine months essential for the spirit and soul to be housed but you need to also develop the flesh and tissues to carry out your assignments here on earth. Satan is God's chief opposer and enemy and he is also your enemy and I. The first plan of Satan is to abort you and the plan of God for you here on earth. If you're not born, Satan and his demons are the happiest on earth. "A great and wondrous sign appeared in heaven: a woman clothed with the sun, with the moon under her feet and a crown of twelve stars on her head. She was pregnant and cried out in pain as she was about to give birth. Then another sign appeared in heaven: an enormous red dragon with seven heads and ten horns and seven crowns on his heads. His tail swept a third of the stars out of the sky and flung them to the earth. The dragon stood in front of the woman who was about to give birth, so that he might devour her child the moment it was born," (Revelation 12: 1-4). The cosmic conflicts between God Almighty and Satan most of the times are invisible but in rare moments they break out on earth for our physical impact. The second plan of Satan is to abort the purpose of God for your life, because your assignment on earth is clearly anti-thesis to Satan's plan for you and the world. "For we wanted to come to you - certainly I, Paul, did, again and again – but Satan stopped us," (1 Timothy 2: 18). The third plan of Satan is allied to the second; if he cannot stop God's purpose for your life, he substitutes God's plan for his own and tries to convince you that his plan is your plan and all that matters is to look after yourself and be yourself. "Again, the devil took him to a very high mountain and showed him all the kingdoms of the world and their splendor "All this I will give you," he said, "if you will bow down and worship me." (Mathew 4: 8-9). You were called to be a teacher of the Gospel, Satan substitutes it for a secular teacher. You were called to be a deacon in the house of God, Satan convinces you to read accountancy and join a bank and become the greatest accountant in the world. You were called to be a musician and Gospel artiste, Satan makes you the greatest secular musician on earth and so forth. The artifices of Satan are; appeal to the sex, taste, vision, touch, hearings, sex and all things fleshly and that was why our Lord Jesus Christ warned: "Do not store up for yourselves treasures on earth, where moth and rust destroy, and where thieves break in and steal. But store up for yourselves treasures in heaven, where moth and rust do not destroy, and where thieves do not break in and steal," (Mathew 6: 19-20). Because of our constant thirst for food, clothing and shelter, Satan who is in charge of the worldly system as it is right now baits us with these ephemeral which have no eternal values. And later in that Mathew 6 quoted above, Jesus Christ further warned: "And why do you worry about clothes? See how the lilies of the field grow. They do not labor or spin. Yet I tell you that not even Solomon in all his splendor was dressed like one of these. If that is how God clothes the grass of the field, which is here today and tomorrow is thrown into the fire, will he not much more clothe you, O you of little faith? So do not worry, saying, 'What shall we eat?' or 'What shall we drink?' or 'What shall we wear?' For the pagans run after all these things, and your heavenly Father knows that you need them. But seek first his kingdom and his righteousness, and all these things will be given to you as well." (Mathew 6: 25-33). Jesus Christ knows we need food, clothing and shelter; after all, He created us but He is saying those three things should not be the primary focus of our lives but how to carry out our purpose on earth, for which He sent us here as our Creator. Satan on the other hand has organized the world system in such a way that we pre-occupy ourselves with all these ephemeral and we spend almost half of our lives on them before we realize this is not why we are here. Can't you see how Satan has organized the word system: six years in elementary school, five or six years in secondary, another four years of college, another one or two years in post-graduate college and for people like us, another four years for more and by the time you are done, you've spent almost 30 years just for papers and secular education. Many spend more and all because of food, clothing and shelter. The world school system doesn't prepare any human being for life; the system only prepares its products to make a living, period! The fourth plan of Satan is to marshal his demons to watch over you. While God assigns two of His angels to watch over you, Satan attaches more than two and they have specific functions some of which are namely: develop your consciousness to the worldly system they run here on earth, make you become earthly-minded instead of being heavenly-minded and the use of parents, customs, traditions and culture to control you as you're born and begin to grow. That is why Jesus Christ warned "The man who loves his life will lose it, while the man who hates his life in this world will keep it for eternal life." (Mathew 12: 25) because, as James later corroborated in James 4: 4:"Ye adulterers and adulteresses, know ye not that the friendship of the world is enmity with God? Whosoever therefore will be a friend of the world is the enemy of God." The fifth plan of Satan for you and I right from our mothers' womb is for us to serve him and his demons, rather than God Almighty and finally, his sixth and final plan is for you and I and every human soul born and will ever be born on earth to end up with him and his demons in hell fire. Satan and his demons achieve the fifth and sixth plans through death. As I have explained last week through the unction of the Holy Spirit, Death is a demon. As it takes nine months for human beings to stay in the womb to develop the human parts to house his/her spirit into a physical body; so also it takes another nine months for the spirit and soul to depart from the physical body. All those who will die in March 2014 next year have died spiritually now but unknown to many. In other words, just as two angels assigned to the human spirit and soul bring both to the womb of a mother and stay throughout the child's life, in the case of death, it is the angel on the right who brings the spirit that first departs, then followed by the soul and lastly the human physical flesh. "When their spirit departs, they return to the ground; on that very day their plans come to nothing," (Psalm 146: 4); "…then the dust will return to the earth as it was, and the spirit will return to God who gave it." (Ecclesiastes 12: 7). Finally, read this in Luke 23: 46: "Jesus called out with a loud voice, "Father, into your hands I commit my spirit." When he had said this, he breathed his last." As soon as the spirit departs, the next decision to make between the second angel on the left who carries the soul is where the soul will spend eternity; will the soul return with the second angel back to heaven or will the soul be released to Satan? This is the question that must be answered in the remaining nine months while the person is on earth, unbeknownst to the person but may be revealed to him/her by the Holy Spirit. Read this in Psalm 4: 6 if in doubt about the last revelation: "Return, O LORD, rescue my soul; Save me because of Your loving kindness." Read the whole of Revelation Chapter 18 and pay particular attention to Verse 13 thus: "…cargoes of cinnamon and spice, of incense, myrrh and frankincense, of wine and olive oil, of fine flour and wheat; cattle and sheep; horses and carriages; and bodies and souls of men (emphasis mine)," and when you're done to the end of the chapter, you will understand more tricks of Satan against the human souls. As for the human body, your physical body that you spend a lot taking care of now, it's useless, because it has no eternal value whatsoever. It belongs to Satan except on three occasions; Genesis 5: 24; 2 Kings 2: 11 and Jude: 9
NEXT WEEK: How Death actually takes place and how the issue of the human soul is finally resolved between the angel on the left and Satan here on earth which finally leads to the person leaving the earth which we call death that is now visible to everyone?
WORLD PROPHECY: This is huge! Something of global importance, an earth-shattering event and a cosmic occurrence is in the offing in the world. I don't know what it is but the Holy Bible has predicted it and we shall all see it with our very eyes soon. This event is part of end-time prophecy and it's about to take place very, very soon in the next 12 to 24 months. I don't know what it is; I repeat again, I wasn't shown what it is but again, it's HUGE. The whole world will be shocked; from the rising of the sun to the setting of the sun; from the East to the West; from the South to the North, the planet earth is about to witness a catastrophic event. The Divine Hand of God Almighty, the Creator of the heavens and the universe, Our Lord and Savior Jesus Christ is about to intervene in the affairs of humanity. The world media, the commentariat, the scientists, the astrologers, the men and women of earthly wisdom and their ilk will be talking their heads out but will not be able to explain but those who know the True God will be unshaken and unperturbed. What is it? I wasn't shown but was only told (Luke 21:11 & 25).
ISSUES OF THE WEEK
Susan Rice as NSA and Samantha Powers as UN Ambassador: The second term of President Obama finally took off full throttle with the National Security team on stream now that Dr. Rice and Ms. Power have been appointed as NSA and UN Ambassador respectively. Susan Rice is another Rice coming into the position after Condoleezza Rice under Bush II. Ms. Rice is coming into the office with superb and intimidating credentials and in line with our tradition as someone eminently qualified for the job. We all saw it coming after Republican hawks geared up to block her nomination, if she was put forward for the job by Obama. Senator Kerry eventually got the job. I have listened to Power and there is no doubt she is also a good choice as our lady at the United Nations. For President Obama, three revelations came out of these latest nominations: the role of women which potentially has repercussions for 2016; the need to reward loyalty and how our culture is changing. The votes of women counted much to Obama's re-election last year; nearly 60 percent favored him to Romney and if that trend continues, Hillary Clinton may be a shoo-in come 2016, barring any other unforeseen circumstances. The second issue is the continuing culture of rewarding loyalty in presidential politics. Once a president wins, re-election, two years into second time turns the presidency into a lame-duck. For the past half-a-century, our four re-elected presidents didn't achieve much; one resigned in disgrace, one suffered memory loss, one was impeached, and another hurriedly left with the lowest approval rating in history. Finally, Obama has discarded the age-long practice of appointing nursing mothers into top-level cabinet positions; Power's second child is a tot. But beyond the credentials of these two women, there are other issues. One of the issues concerns Mrs. Rice's years at the State Department under President Clinton. As assistant secretary of state for Africa in the 1990s, Dr. Susan was the one that served the tea that killed President MKO Abiola inside Aso Rock in summer 1998. The tea was prepared by an agent of Gen. Ibrahim Babangida after Babangida smuggled himself into Aso Rock and conversed with Gen. Abubakar Abdusalam and Gen. Ishaya Bamayi. The United States Government did not kill MKO Abiola. The US Government didn't want him to become president for reasons space will not permit here, but any investigative journalist in Nigeria and member of the SSS and DMI during those uncertain years in Nigeria's history and were on the know would tell you that General Ibrahim Badamasi Bangida planned everything in league with his boys. I have read the interview granted The Punch by Dr. Ore Falomo, late MKO Abiola's physician and the write-up by Femi Fani-Kayode last week on the 20th year anniversary of June 12, 1993. Femi raised more issues and didn't bring anything new to his write-up because he didn't know anything about how the CIA operates in the world. Before the US Senate outlawed the direct targeted assassination of world leaders in 1978, the last president to use that CIA standard practice was President Gerald Ford and the last known foreign leader assassinated was General Murtala Mohammad of Nigeria on Friday February 13, 1976. Since 1978 beginning with the Carter Administration, the CIA doesn't have Congressional approval to conduct clandestine foreign operations to assassinate sitting presidents and heads of state, although the agency operatives could give logistics and other supports to a group identified in any foreign nation as allies to unseat their anti-American leaders. Chief MKO Abiola was a creation of the CIA as far back as the 1960s and many former and most recent Nigerian leaders too are known CIA spies against Nigeria as a nation and Africa which we cannot reveal here. As a matter of CIA policy, Thomas Pickering who was an ambassador and Susan Rice who was under-secretary of state for Africa would have been the two most visible American diplomats and the least to be present in Nigeria or inside Aso Rock for such a high-profile murder of Chief MKO Abiola, if the CIA was involved. This was precisely the confusion and scape-goat of America that Gen. Ibrahim Babangida and his gang wanted to create so that gullible Nigerians would shift attention from them and heap the blame on America's CIA.
The plan to kill both Abacha and Abiola was taken by the Babangida Camp and the Northern Nigerian power-brokers represented by the shadowy Kaduna Mafia in December 1997 shortly after the death of General Shehu Musa Yar'Adua, chief of staff supreme headquarters to Gen. Olusegun Obasanjo between 1976 and 1979 and the elder brother to late President Umaru Musa Yar'Adua. The Hausa-Fulani Oligarchy who was very powerful them but whose powers had been whittled down considerably now for sundry reasons which are outside the purview of this write-up blamed Sani Abacha for Shehu's death and vowed to revenge. The oligarchy was planning how to seek revenge when Sabo, who was at the DMI where I was detained for two years, visited Sani Abacha in summer 1997 and stumbled on the plans of Abacha. First, Abacha was impudently cocksure he would be returned unopposed by his created political parties as a civilian president on October 1, 1998 and had three topmost priorities at his swearing-in namely: the removal of Alhaji Ado Bayero as the Emir of Kano, now the longest reigning Kano emir in history; the arrest and detention of Gen. Ibrahim Babangida to join Obasanjo and Abiola in Abacha's gulag; and finally, the retirement of Abubakar Abdusalam as defense minister/army chief and all the other service chiefs. It was Brigadier-General Sabo that squealed to Babangida in Minna, Niger State. Abubakar Abdusalam got wind that he would be retired along with the other service chiefs by Abach and came to tell Babangida in frustration he would prefer to retire honorably instead of waiting for Abacha to fire him but Babangida told him to wait that there was machinery in motion to take out both Abacha and later Abiola. Throughout 1997 and half of 1998 when Abacha died, Abacha had put Babangida under security surveillance to the extent that Babangida hardly ever discussed anything political with his retinue of visitors inside his mansion. He was also not on speaking terms with Abacha. When Abdusalam came to him, they had to use a décor and discussed inside a security tinted car outside his Hilltop residence in Minna. The SSS and DMI chaps who knew what I am disclosing here are still alive in Nigeria. Shortly thereafter, the Babangida Gang and the Kaduna Mafia met and discussed ways to remove Abacha and Abiola to use Gen Babangida's words; "so Nigeria could move forward." How to remove Abacha was initially planned as a coup but the fear that Gen Diya may move in being the second in command was a sticking point and so he had to be removed first when they roped a phantom coup on his neck. Babangida counseled against a coup to topple Abacha because it would be bloody but said Abacha, who he had worked with for nearly 30 years had an Achilles' heels: women. I have said it before in several interviews that no Indian prostitute killed Abacha, the lady the Babangida Gang used was a Nigerian. The rest as they say is history. But suffice to add that when the time to eliminate Abiola began inside Aso Rock, the initial suggestion by the mafia was to use Dr. Salim Ahmed Salim, who was then 6th secretary-general of OAU (now AU) and Dr. Abass Chernor Bundu executive secretary of ECOWAS, but the Babangida Gang insisted that Chief Emeka Anyaoku and Dr. Kofi Anan of the Commonwealth and UN respectively should be used to talk to Abiola instead. Rice and Pickering were used as coverings precisely to give ammunition to many local Nigerian political analysts and the likes of Femi to ascribe Abiola's death to the CIA. Ms. Rice and Ambassador Pickering weren't aware this was what was afoot but President Clinton dispatched them to Nigeria with the expressive mission to assist the Nigerian people to find amicable solution to the political logjam. As a matter of fact, it was already determined that after Abacha and Abiola were killed, Gen Obasanjo, who was still in detention unaware of events happening, would be released by Gen Abdusalam and made president as a sop to the Yoruba people for losing one of their own; MKO Abiola.
Now to the spirit realm which controls the physical; the Lord God Almighty showed me the deaths of both Abacha and Abiola in summer 1997- a year before the duo were eliminated and I used it to preach for a year till the last days to their deaths inside the DMI underground cell that I was detained in Apapa, south-west Lagos. Chief Olabiyi Durojaiye who was detained with me but later became a senator after he regained his freedom, Prof Olajide Osuntokun, former Nigerian Ambassador to Germany who is now a columnist for The Nation newspaper, who was also detained with us and many others heard about my disclosures about the deaths of both Abacha and Abiola more than a year before they were killed and so it wasn't something hidden. The CIA doesn't operate the way Nigerian writers want the world to believe on the deaths of both Abacha and Abiola.
From My Mail Bag This Week
"Dear Dr. Fayemiwo, Thank you for your latest articles on death as a demon! More anointing to you in Jesus Name! Please be aware that General Obasanjo was at BBHS not AGS! I rather suspect many AGS old boys will not be pleased at that error! Thanks"--- Mr. Tokunbo Ogunbiyi, London, UK
Thanks for the correction. Yes, Mr. Obasanjo attended Baptist Boys High School, Abeokuta where he was with other important Nigerian personalities who eventually made it to his inner circle when he was president; Tunji Oseni, Sunday Afolabi etc. The error is regretted.
==========================.
"Dear Dr. Fayemiwo, your last article on eulogies to the late Mrs. Olawunmi Fagboyegun was a very brilliant article but also more importantly, it is a soul-winning piece. Well done---Prince Goke Olateru-Olagbegi, President Mogoke Ventures Limited Ibadan, Oyo State, western Nigeria.
Thank you my dear prince. The commendation is appreciated.
==========================.
"Thanks a lot about your eulogies on the late Madam Florence Olawunmi Fagboyegun which I read a day after they were published. When I was reading your eulogies, it got to a certain stage when you mentioned her children, I wept because one of them was my classmate at St. John and Mary Demonstration Primary School in the 1970s. His name was Gbenga Fagboyegun now late. May his soul rest in peace. The late Gbenga Fagboyegun was very brilliant, highly accommodating and helpful to everybody when we were together as classmates in Class 6b at St. John and Mary Demonstration Primary School, Owo in 1972. ---Mr. Aketepe Babafemi Sapengo, Owo, Ondo State, western Nigeria.
Such his life, Mr. Sapengo, I could still remember the news when it oozed into Owo that the Late Gbenga Fagboyegun died in a motor accident in present-day Ekiti State, it was a very sad day for the entire Fagboyegun Family and the relatives. I remember my late mother took me to the family house for commiseration when the tragedy occurred.
===========================.=
NOTE: The much-awaited biography of Mr. Aliko Mohammad Dangote of Nigeria, which I co-authored with Dr. Margie Marie Neal, was released to the market by our Houston, Texas-based publishers three weeks ago. Please before you make any comment about the book; positive or negative, read the book first. It's rather long; 520 pages but it contains a lot of nuggets about Nigeria and Africa, which you may not find elsewhere. It isn't because I co-wrote it but because it is a good book. Don't take my words for it but check out our official website and read what others have said about the book (http://sbpra.com/MoshoodAdemolaFayemiwoandMargieMarieNeal/). Meanwhile, my co-author and I will be using the whole of this year's summer to promote this important book, which will take us to towns and cities across the United States. Please watch out as we may be in the neck of your woods one of these days and I will surely keep you posted.
NOTE: My forthcoming book: "The Kingdom of Satan Exposed: Activities of Principalities and Demon Worship In Our World Today and Inside The World of Witchcraft, Voodoo, Warlocks and Spiritual Warfare" will be out in the summer. If you want a copy at a discount of 15 percent before official release, please send an email to [email protected] now for more information. For those that have reached out and are on the lists of our pre-paid customers, our Colorado-based publishers are working round the clock to release the title this summer. The volume is long –about 500-plus pages-so they're taking their time and I will break the news here as soon as it is released.
• Dr. Fayemiwo co- author of the newly-released; "Aliko Mohammad Dangote; the Biography of the Richest Black Person in the World," is CEO, Alternative Lifestyle Communication, DBA Chicago, USA.
Disclaimer:

"The views/contents expressed in this article are the sole responsibility of the author(s) and do not necessarily reflect those of The Nigerian Voice. The Nigerian Voice will not be responsible or liable for any inaccurate or incorrect statements contained in this article."
Articles by The Christian Walk