UPDATED: Edo State Speaker, Deputy Impeached, PDP Fights Back, Refutes Report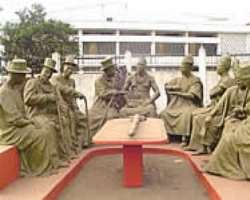 San Francisco Feb 22, (THEWILL) - In an apparent move to finally lock down Edo State government machinery, the Adams Oshiomhole led Action Congress State government today removed the speaker of the House of Assembly, Mr. Zakawanu Garuba (PDP) and his deputy, Mr. Levis Aigbogun (PDP) from office.
The impeachment was carried out by 16 members of the House in what an observer called a violent and thunderous session.
However a source said the impeachment may not have been successful saying the mace was taken away by Hon. Bright Omokhodion of the PDP before the process started.
Also removed from their positions are majority leader, Frank Okiye and Blessing Agbebakun, who was suspended indefinitely for carrying a firearm into the chamber of the House.
Minority leader of the House, Mr. Paul Ohonbamu moved the motion for their impeachment alleging that leaders had engaged in fraud and misappropriation of House funds.
Peter Usman Aliu (AC) will act as speaker protem pore until elections are conducted to replace the former leaders.
Edo State AC and the PDP have been locked in a supremacy battle since Comrade Adams Oshiomhole became governor of the State.
PDP Fights Back, Refutes Report
Meanwhile the Peoples Democratic Party, PDP has debunked claims that Hon. Zakawanu Garuba and his deputy were impeached by the House.
In a press release signed by its State Director of Publicity and Strategy, Okharedia Ihimekpen said: "The general public and the good people of Edo State is hereby informed to disregard and discontinuance the purported suspension of the Speaker of the House of Assembly, Rt. Hon Zakawanu Garuba and some of the principal officers of the Edo State House of Assembly. The issues are:
"1). That the constitutional provision to suspend or remove a Speaker is two-thirds Majority of its members which 16 members.
"2). That the two-thirds Majority of the Edo State House of Assembly is 16 members of the 24 members.
"3). That only 13 of its members short of the 16 members were said to have attempted to remove the Speaker.
"4). That the Speaker of Edo State House of Assembly remains Rt. Hon Zakawanu Garuba representing Etsako West 1 State constituency.
"5). That this notice of information is in the interest of the general public in other to disabuse their minds and avoid a situation that may undermine the peace, unity and stability of our polity.
"The Peoples Democratic Party also wish to use this opportunity to thank its members and the general public for their concern, support and a peaceful disposition to a stable polity in our search for development and growth."