President Jonathan, Atiku, Shettima, Saraki Commiserate With Tinubu Over Mum's Death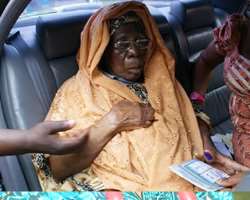 SAN FRANCISCO, June 16, (THEWILL) – As the remains of Alhaja Abibatu Mogaji, the mother of the National Leader of the Action Congress of Nigeria (ACN) and former governor of Lagos State, Asiwaju Bola Tinubu, were committed to mother earth on Sunday, President Goodluck Jonathan; former Vice President Atiku Abubakar; Borno State governor, Alhaji Kashim Shettima, as well as former governor of Kwara State and Turaki of Ilorin, Senator Bukola Saraki, have sent their condolence messages to the ACN leader over the death of his mother.
Mogaji who died in Lagos Saturday evening at the age of 96 was the President-General, Association of Nigerian Market Women and Men.
While President Jonathan described the deceased as a selfless person who will be sorely missed, Shettima said with her death, Nigeria "has lost a progressive, a woman with distinction in mobilising citizens for a good course."
A statement signed on Sunday by the Presidential Adviser on Media and Publicity, Dr. Reuben Abati, said President Jonathan, on behalf of himself, his family and the Federal Government extends sincere condolences to Asiwaju Tinubu.
"The President joins Asiwaju Tinubu, his family, the people of Lagos and the many Nigerians whose lives were touched in positive ways by Alhaja Abibat's activism over the years in mourning the late President-General of the Association of Nigerian Market Women and Men.
"He also joins them in giving thanks to God Almighty for Alhaja Abibat's long and very fulfilled life in the course of which she developed a great personal followership and contributed immensely to communal, societal and national development.
"President Jonathan believes that the highly revered and respected market leader, businesswoman political activist and philanthropist will be long remembered and honoured in Lagos and across the country for her indefatigable championship of the cause of market women and men as well as for her acclaimed persistence, well into old age, in defending the interests of the poor and underprivileged in society.
"He prays that God Almighty will grant Alhaja Abibat a well deserved rest from her earthly labours," the statement said.
Atiku , in a statement, issued from his media office, expressed utter shock at the death of Alhaja Mogaji , saying the death of a mother was one of the saddest events in the life of children.
As a care-giver, protector and character moulder, Atiku said a mother's place in the lives of her children could not be compared to anything else.
According to the former Vice President, one of the greatest pride of a mother is to see her children grow up as responsible adults that realised their dreams or aspirations.
He said the late Mogaji's pride was to leave behind children that were determined to make their marks in life.
The Turakin Adamawa added that as a pillar of family love, the late Mogaji's children had a duty to keep her virtues alive and to immortalise her.
He noted that the "loss of a mother that made sacrifices to make us happy was an experience words could not adequately describe."
While praying Allah to grant the deceased eternal bliss , Atiku urged Asiwaju Tinubu and his siblings to always remain the living symbols of her virtues of love and family unity.
And describing the late Mogaji as a woman of distinction, Borno State governor, Shettima, in a statement signed by his Special Adviser on Communications, Alhaji Isa Gusau, on Sunday, said with her death, Nigeria "has lost a progressive, a woman with distinction in mobilising citizens for a good course."
"In my days as a banker over the years, with our headquarters in Lagos and as a postgraduate student in University of Ibadan whose transit point was usually Lagos, I was a consistent person in Lagos and this gave me the opportunity to be conversant with the effective and efficient organizational powers of mama not just as a successful entrepreneur but as a grand mobiliser of Nigerians for good courses.
"She was an activist who struggled for the rights of common people, including millions of traders she led; she was a progressive who contributed immensely to the political liberty of Lagos and by extension the southwest; she helped in the advancement of democracy as a key player, not a passive beneficiary; she lived and died amongst her people when she could have chosen to relocate abroad," Shettima said.
Shettima also extolled the virtues of Alhaja Mogaji, noting that "she lived and died advancing the entrepreneurial spirit of Nigerians."
According to the governor, " As President-General, Association of Nigerian Market Women and Men, Mama promoted massive self employment which is the ultimate in fighting crimes and insecurity; she therefore died though at a celebrated age but at a time when her experienced progressiveness was needed by all of us, her children and grand children.
"She was a great woman who deserved the honourary doctorate degree conferred on her by the Ahmadu Bello University during its 50th anniversary. I therefore celebrate the legacies she has left for us to emulate; I commiserate with my elder brother and senior Governor, Asiwaju Bola Ahmed Tinubu and the Tinubu family; I offer condolences to my elder brother, the Governor of Lagos, Raji Fashola, his government and citizens; I commiserate with the ACN and the political class in Lagos; I empathise with Nigerian market communities and I pray that Allah in His infinite mercy, admits mama into aljanna Firdaus and give her survivors the fortitude to bear this loss," Shettima said.
In his condolence message, former Kwara State governor, who is now a member of the National Assembly, Senator Bukola Saraki, said: "I am saddened by the demise of Alhaja Abibatu Mogaji the mother of former governor of Lagos State, Asiwaju Bola Ahmed Tinubu. Mama passed on after a brief illness at the age of 96.
"Alhaja Abibatu Mogaji, the President General of the market men and women would be remembered for her giant stride in the business world. She lived an exemplary life worthy of emulating; a role model to many who contributed immensely to the development and empowerment of market men and women.
"Iya loja, as she was fondly called has left an indelible mark in the economic development of Lagos State and Nigeria. She was a mother to many, loved for her kind heart and her business prowess. She will be sorely missed not only by Lagosians but Nigerians as a whole.
"My heartfelt condolences goes to the Mogaji and Tinubu family, especially Asiwaju Bola Ahmed Tinubu. On behalf of the good people of Kwara Central, I commiserate with the Oba of Lagos HRH Rilwan Akiolu and all the market men and women in Lagos. I pray that Almighty Allah will grant the entire family patience and the fortitude to bear this irreplaceable loss."