AHOY ADMIRAL ADUWO! BUT....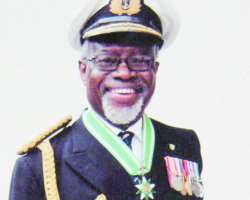 I love the Navy. Their white, warships, women. Please do not stray yet. I mean the special caps.My younger brother saw service wearing navy blue.I adore Admirals Horatio Nelson of Trafalgar and Chester Nimitz of USS Missouri, as much as i do Heihachiro Togo,conqueror of Russia in Tsuhima,1905.
Last week,i read Admiral Akintunde Akinloye Aduwo's 75th birthday reflections in a national weekly.I do not intend to torpedo his joy. As the Taaralese flotilla moves from Okitipupa to the River Oshun,my best is to turn the turret towards some mistakes.I beg to say that part of the interview was a biased and slanted view of events.
In the first place,no naval officer took part in the 1990 Gideon Orkar coup.Secondly,the naval officer shot in the Mamman Vatsa plot of 1985,was not an Easterner.It is also not true that that that was the only time a naval officer would be tried for treason. Again,it is incorrect to assume that the navy never took part in any coup d'etat worldwide.
With all due respect, Commander Anthony Ogwiji was an Idoma from Benue state,not from the East. But does tribe really matter?The Admiral did not have to stress his area of origin.Ogwiji was not as anonymous as he was almost scripted.Like Adm.Aduwo,he trained in the U.S. and India after joining the navy in 1969.
Ogwiji was once Aide-de Camp[ADC] to a Chief of Naval Staff[CNS].His last job was Commanding Officer[CO] NNS Olokun and member Lagos state Executive Council.In one breath,the fourth CNS claimed that Ogwiji could have been guilty of concealing the plot,in another the executed officer was said to have given the navy a bad name.According to the one time Governor of old Western state,"one,he gave the navy a bad name.No one ,no officer or naval personnel was even involved in any coup planning,was ever associated with any coup planning."
Well,if indeed Ogwiji failed to report the plot,he was just unlucky.Kinsman Lt.Peter Odoba who got wind of the plot through his uncle Col.Mike Oche was not killed.Jailed for 10 years,the youngman was released in 1991.Also unlucky was Major Idowu Bamidele.Prior to 1985,he had been punished by Gen.Muhammadu Buhari for reporting coup related matters.So when another plot sprang up,Bamidele played deaf and dumb.
The navy may not be as far flung as Adm. Aduwo thought.Nine years after Ogwiji's death, Cdr. L.Fabiyi[NN430] was sent to jail in Sokoto ,15 years, on allegations of planning to oust the Sanni Abacha regime.In 1997,Lt. Cdr.N.N.Soetan[NN0739] also faced a military tribunal.Lucky man,discharged and acquitted.
Elsewhere, the navy may not be as silent as seen in the eyes of Admiral Aduwo.They are not exactly at sea when it comes to military dictatorship.Uruguay in the 1970s was ruled by Admirals and Generals through a National Security Council.Initially,they played smart by appointing a civilian President,their stooge.That was until 1976,when they overthrew Jean Maria Bordaberry.
Talking about giving the navy a bad name,Adm.Aduwo apparently forgot that among the very first armed robbers executed by firing squad in Nigeria,April24 1971 was navy Sub-Lt.William Alders Oyazimo.Just as Col.[Monsignor] Pedro Martins was about to pray for him,Oyazimo said,"Father,i am innocent.My blood will cleanse my family,and my children will prosper."
I guess Adm. Aduwo was Commander at the time,the navy did not plead for one of their own.It took over 40 years for somebody to defend Oyazimo.Among the first set of ratings recruited by the navy in 1957 were Duncan Abebele,John Brambefa and Oyazimo.Abebele insisted that it was business gone sour between the shot officer's wife Esther and one Alhaja Opene,not armed robbery.By the way,Abebele was on Adm.Aduwo's warship from Bonny to Calabar during the Civil War wearing the cognomen 'Native Doctor'.Possibly, he was not as significant as Lt.Suleiman Seidu and A\B Bello.
Of the three Rear-Admirals Court martialled in 2005 over the missing ship MT African pride,Anthony Bob-Manuel,an Easterner was set free.The duo of Sam Kolawole and Frank Agbiti were dismissed.Agbiti's case was so pathetic.When his Nigeria Defence Academy[NDA] Course 9 mates,including Buba Marwa,Fidelis Makkah.Clement Emein,Emma Acholonu,Anthony Aguguo,and Bob-Manuel among many others announced the passage of Adm. Peter Ijebu in 2008,Agbiti was not mentioned.
Allen Roundabout, Lagos saw red one sunny day in 2005 when navy Lt. Felix Olanrewaju Odunlami[NN2121] drew his service pistol to murder one Peter Edeh for denting his car with an 'Okada'.Another Court Martial,then life sentence.Appeal failed.Supreme Court stood firm.
In all these,i have neither mentioned tribe nor tongue.And my love for the snow white navy remains like a red,red rose.It is good to hear form the other side.I picked a lot of positives from the interview too.Until i heard it from the horse's mouth,i thought Adm. Aduwo was dropped as Governor after 30 days, because he kept Chief Obafemi Awolowo waiting at Agodi.I also did not know that he was senior to Husseini Abdullahi,Olufemi Olumide,and Promise Fingesi.
The navy owes a lot to Easterners.The first CNS with Nigerian blood Edet Wey,the second CNS Nelson Bosman Soroh,both came from the East.And thank God Adm.Aduwo married an Easterner,his daughter chose Nsukka for her degree course.I am also part of the thanksgiving at Methodist Church Opebi, if invited.Twice i was there for Baby dedication.Now i could go to celebrate a Nigerian who captained a ship in today's South-south,governed the West,found love in the East and was crowned CNS by a man from the North.Happy Birthday Sir!
Written By Emeka Obasi.

Disclaimer:

"The views/contents expressed in this article are the sole responsibility of the author(s) and do not necessarily reflect those of The Nigerian Voice. The Nigerian Voice will not be responsible or liable for any inaccurate or incorrect statements contained in this article."
Articles by thewillnigeria.com