EFCC Arraigns 17 Over Oil Bunkering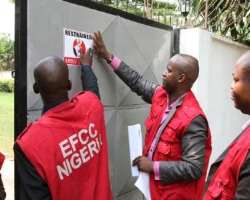 San Francisco Feb 22, (THEWILL) - No fewer than 15 Nigerians and two Ghanaians were on Monday February 22 arraigned before a Federal High Court in Asaba, Delta State by the Economic and Financial Crimes Commission, EFCC over illegal oil bunkering.
The 15 Nigerians docked for conspiracy and illegal oil bunkering include: Ebizugbe Kennedy, Kalu Emmanuel, Awagbe Kehinde Peter, Alonte Kolapo Kehinde, Moloko Joseph, Yinka Ajibade, Ogonoye Adeshina, Anyigi Edu Sunday, Adebayo Babatunde Micheal, Chukwudi Egwu, Adeyeye Adebowale, Segun Adenuwa, Busari Olatunyi Adeleke, Odewu Joseph and Ogundipe Olubokola who is the only female among them. The two Ghanaians are Owusu Kwaku and Joseph Akwa Koffi.
The suspects who were arraigned on a two count charge were however denied bail by the trial judge, Justice Marcel Awokulehin who ordered that they be remanded in prison custody till March 9, 2010 when their counsel, Barrister Nelson Otaji would argue their bail application.
Prosecution counsel, Gabriel Edobor had refused an oral application for bail as canvassed by the defence counsel.
Count one of the two-count charge of conspiracy and illegal oil bunkering states that the suspects, within the jurisdiction of the Federal High Court, Asaba, Delta state, did conspire among themselves together with Niyi Fafunwa now at large to commit felony by dealing in petroleum products contrary to Section 3(6) of the Miscellaneous Offences Act and punishable under Section 17 of the same Act.
Count two states that the suspects alongside Niyi Fafunwa, now at large on February 9, 2010 at Parkinson creek, off Warri channel, delta state, within the jurisdiction of the Federal High Court, without lawful authority to deal in petroleum product by bunkering 723.6 metric tone of crude oil into MT SHEKINNAH later changed to MT B EXCEL and thereby committed an offence contrary to Section 1(17) of the miscellaneous Offences Act and punishable under the same section of the Act.
The 15 Nigerians and two Ghanaians were arrested by the Joint Task Force Operation Restore Hope, Yenagoa, Bayelsa State and transferred to the EFCC on February 10, 2010
EFCC operatives had in the course of investigation, discovered the suspects and their vessel MT B EXCEL were carrying 724 metric tones of substance suspected to be crude oil.
In the course of interrogation, Mr. Ebizugbe Kennedy, the captain of the vessel explained that one Engr. Usman of the Operations Department of Pokat Nigeria Limited called him and informed him that he would be travelling with his crew to Warri to evacuate crude oil already bunkered in two ships, MT KUA and MT HOPE.
Rather than berth at the NPA Warri where the vessel was booked for, the vessel was diverted to another destination, which turned out to be Shanoni creek where the bunkering took place.